Kansas City, Mo. — One year after scoring an NFL-record 27 touchdowns, Priest Holmes sometimes has trouble getting out of bed the morning after a game.
His 31-year-old body -- old for a running back -- ached so much the past two weeks he couldn't even practice until Thursday. Then he did only light work. Still, Holmes quietly is putting together another monster season and is on pace to rush for about 1,900 yards and erase his own record with 32 TDs.
"It's incredible, considering some of the injuries," Chiefs quarterback Trent Green said.
Although bruised, battered and nicked up most of the year, Holmes leads the NFL with 833 yards rushing and 84 points. He's second with 1,017 yards from scrimmage and, not quite halfway through the season, already has scored 14 touchdowns.
In Kansas City's 56-10 rout of an Atlanta team that had been leading the league in defending against the rush, Holmes tied an NFL record by scoring four touchdowns rushing in one half. A mild ankle sprain took him out early in the third quarter.
"The main priority is keeping him healthy," Green said.
With Holmes scoring seven touchdowns, the Chiefs (3-4) scored 101 points and piled up more than 1,100 yards of total offense in victories the past two weeks over Atlanta and Indianapolis.
"He's been huge this year. He's running even better than he did the previous years," Green said.
And that's saying a lot. Since the start of the 2001 season, the 5-foot-9, 210-pounder leads the NFL with 5,432 yards rushing, 7,583 yards from scrimmage, 69 touchdowns rushing and 319 first downs by rushing. He and Green Bay's Ahman Green are tied with 24 100-yard games.
"Priest Holmes is amazing," coach Dick Vermeil said. "He just keeps doing it and doing it."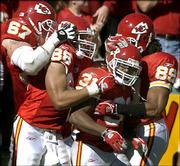 Holmes had 225 total yards against the Colts and ran his career total of games with at least three TDs rushing to nine. In the history of the NFL, only Jim Brown, with 10, had more.
"What Priest is about is not necessarily touchdowns and yardage," said fullback Tony Richardson, whose point-of-attack blocks have helped spring his buddy for many of his finest runs.
"Priest is about heart, what he brings to the game week in and week out. There's nobody else in the NFL I would rather line up with."
Because Holmes is a veteran and longtime student of Kansas City's complex offense, missing practice days does not seem to be a problem.
"Not at all, because it's all mental with me," Holmes said. "It's just a matter of repetitions going through my mind of what I need to do. Most of it is making your mind up and being ready to play on Sunday."
He scared about 80,000 fans and brought a groan from Vermeil last week when twice on short-yardage situations Holmes vaulted over a stack of tacklers and came down on top of his head.
To everyone's relief, he bounced right back up.
"It's just a part of football," he said. "I land like that just about every week. It just depends on how I fall. The most important thing was there was no one on top of me pushing me down. It was just my own body weight that was hitting the ground."
Still, it's not a move he practices.
"It's just having that feel of the goal line," he said. "The only creature on earth is the cat that's able to flip in the air and land on its feet. For me, it's just a matter of trying to get across the goal line."
For enemy tacklers, it's a matter of getting Holmes out of the game.
"If I'm hit hard enough ... they'll say, 'I got him. He's down. He's not going to be able to get back up. He's going out of the game,'" Holmes said.
But Holmes isn't angry.
"I'm always saying, 'Nice hit,' so that no matter how you're hitting me, you're always going to hear that. I'm always going to say, 'Nice hit,' and get up and be ready to play," he said.
Standing less than 5-foot-10 in a sport dominated by hulks also may make him look vulnerable.
"If you're a linebacker playing running back like (Baltimore's) Jamal (Lewis) it's going to be a little different feeling," he said. "Most of the guys aren't going to say too much to you.
"But I think when you come in and you're my stature, most of the guys seem to feel they can get a good shot on you."
Copyright 2018 The Associated Press. All rights reserved. This material may not be published, broadcast, rewritten or redistributed. We strive to uphold our values for every story published.