Topeka — Low-key and congenial, Sam Brownback could easily get lost in a crowd.
But in the crowd at the Kansas Republican Party election watch party here, Brownback was the center of attention.
One of the most conservative Republican senators in Congress, Brownback easily won re-election with 69 percent of the vote against a field of underfinanced and mostly unknown opponents.
But even more than that, Brownback has engineered a conservative takeover of the Republican Party at the precinct committee level.
"I think he has emerged as the clear leader of the Republican Party of Kansas," said Kansas House Speaker Doug Mays, a Republican from Topeka.
Moderate Republicans control the party until January, when the reorganization that puts conservatives in the driver's seat will occur.
"The corporation called the Kansas Republican Party is flat on its back" until then, said Dave Kensinger, a former Brownback chief of staff who now is leader of an anti-tax group that has waged war on moderate Republicans who supported tax increases for schools.
Kensinger said Brownback would pull the Kansas GOP back toward its conservative side.
"The Kansas Republican Party is a conservative party with a moderate wing," Kensinger said.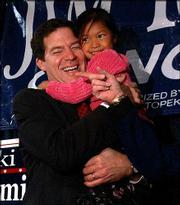 Brownback has been outspoken in his opposition to a woman's right to an abortion and wants a constitutional amendment to ban same-sex marriage.
He says those positions aren't extremist positions. Perhaps as many as 75 percent of Kansans would say life begins at conception and marriage should be between one man and one woman, Brownback said.
"I represent the mainstream of where Kansans are," he said. "It is generally a conservative state."
Opposing force
One politician providing counterbalance to Brownback's strength is Democratic Gov. Kathleen Sebelius.
She supports a woman's right to an abortion and has said a constitutional amendment banning same-sex marriage is unnecessary because state law already forbids it.
In 2002, Sebelius vanquished a Brownback ally, conservative Republican Tim Shallenburger, to take the top prize in a state that is predominantly Republican.
"The two biggest forces are going to be the governor and Sam Brownback in various manifestations," said Burdett Loomis, chairman of Kansas University's political science department.
Now at the midpoint of her first term as governor, Sebelius has fashioned a coalition of Democrats and moderate Republicans to tackle health care and education issues.
Brownback partially attributed Sebelius' victory two years ago to her ability to take advantage of the split between conservatives and moderates in the Republican Party.
"Republicans will win if they don't fight with each other. When they fight with each other is when Republicans lose," he said.
Governor Brownback?
Brownback declined to answer when asked if he was a possible rival to Sebelius in the 2006 gubernatorial campaign.
He said his focus would be serving in the Senate and working on issues such as providing tax credits in counties that are losing population, helping the Kansas aircraft manufacturing industry, opening Japan to beef imports and strengthening the military presence in the state.
Even if Brownback doesn't run against Sebelius, the governor may be sharing the ballot with conservative issues. One conservative Republican, speaking on condition of anonymity, said the party hoped to have on the 2006 ballot proposed constitutional amendments that would ban same-sex marriage and establish the so-called Taxpayer Bill of Rights, which would limit state spending and require statewide votes on whether to increase taxes.
Copyright 2017 The Lawrence Journal-World. All rights reserved. This material may not be published, broadcast, rewritten or redistributed. We strive to uphold our values for every story published.