Charlotte, N.C. — Pondering whether a close loss in their NBA debut was a moral victory for the expansion Charlotte Bobcats, Emeka Okafor did his best cheerleader impersonation.
"I guess you see those movies where everyone is like, 'Yeah! At least you guys were in there!'" he said, arms in the air and mock glee in his voice. "I guess I'd rather lose the way we did then get blown out. But I want to win."
That might take awhile.
The Bobcats marked the NBA's return to Charlotte after a two-year absence with an entertaining and hard-fought 103-96 loss to the Washington Wizards on Thursday night.
"We showed our stuff. We showed we're going to fight and play hard and try to win every night," said Okafor, the No. 2 pick in the NBA draft.
Replacing the Hornets after they moved to New Orleans in 2002, the Bobcats are expected to struggle mightily this season. Still, they were in this one late as they tried to become the third consecutive expansion team to win its NBA debut, following Vancouver and Toronto (1995).
The effort impressed Washington.
"They played really hard and have a lot of key components -- it was kind of hard to call them an expansion team," said Antawn Jamison, who led the Wizards with 24 points. "They've got some talented guys ... they will get a lot of upsets."
Charlotte coach Bernie Bickerstaff seemed disappointed.
"We weren't good enough tonight," he said. "It wasn't because we lacked or didn't want it. Some of them may have wanted it too bad. I don't know whether any of them had stage fright."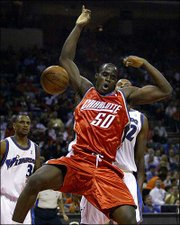 Actually, it was just poor execution in the final quarter, when youth and inexperience were obvious.
The game was tied at 85 when turnovers and poor shot selection allowed the Wizards to go on a game-deciding 9-0 run.
Melvin Ely lost the ball while dribbling, and Eddie House foolishly fouled Juan Dixon as he made a Washington layup. It was a three-point swing after Dixon's free throw, and the Bobcats appeared to unravel after that.
House missed a three-pointer and Steve Smith missed consecutive shots as the Wizards built a 94-85 lead with 4:14 to play.
Charlotte still had chances, sending Tamar Slay to the line trailing 96-90, but Slay missed both free throws and the Bobcats couldn't make a basket after Okafor battled for the rebound.
"They made shots and we didn't," House said. "That will come. I think we did all right for a group that hasn't been together very long."
Unlike the Hornets' first game in 1988, when they received a standing ovation after a 40-point loss, most of the sellout crowd of 23,319 was long gone by the end. Even NBA commissioner David Stern filed out before the final buzzer. It left one seemingly drunk fan standing alone, clapping loudly as he shouted, "OK, Bobcats, you rule!"
Heat 92, Cavaliers 86
Miami -- Shaquille O'Neal made sure the arena was filled. Dwyane Wade took care of sending the record crowd home happy.
Wade scored 28 points and O'Neal added 17 points and nine rebounds in his home debut for his new team as Miami beat Cleveland before 20,235 Shaq-crazed fans -- the largest crowd to see a Heat home game.
O'Neal scored the game's first points on Miami's opening possession and the Heat never trailed, just as they didn't at any time in Wednesday's 23-point win at New Jersey. Udonis Haslem had 15 points and Rasual Butler added 11 for Miami.
Drew Gooden had 24 points and LeBron James had 21 points and eight rebounds for Cleveland (0-2). Zydrunas Ilgauskas, who tied a career-high with 35 points Wednesday in a double-overtime loss to Indiana, managed just eight against the Heat.
Nuggets 94, Timberwolves 92, OT
Denver -- Earl Boykins hit a jumper with 6.8 seconds left in overtime, and Carmelo Anthony had 19 points and 14 rebounds to help the Denver Nuggets win their home opener.
Denver had trouble shooting in its first game without Voshon Lenard, who tore his Achilles' tendon in Tuesday night's season opener against the Los Angeles Lakers.
But the Nuggets found a way to pull it out after the disappointing loss to the Lakers, getting 18 points and 13 rebounds from Kenyon Martin in his home debut with Denver and 19 points from Andre Miller.
Kevin Garnett had 25 points, 15 rebounds, seven assists and five blocked shots, but he couldn't come through on Minnesota's final shot. Last year's NBA MVP was short on a turnaround jumper.
Copyright 2018 The Associated Press. All rights reserved. This material may not be published, broadcast, rewritten or redistributed. We strive to uphold our values for every story published.