Neither man could have known the significance of the event at the time, but Kansas University basketball coach Bill Self donned an Oklahoma State uniform during former KU coach Ted Owens' last game as a Jayhawk in 1983.
"Our whole strategy for that game against Oklahoma State focused on Bill Self," Owens said Thursday night at a charity event in his honor. "We instructed our players that if Bill Self gets the ball, drop off and double-team somebody else."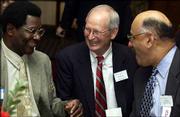 Owens and Self were among the featured speakers at "An Evening with Ted Owens and Friends," a dinner benefiting the Bert Nash Community Mental Health Center. Roughly 450 people attended the event at the Lawrence Holidome, honoring Owens' 19 seasons as KU's head coach.
Between 1964 and 1983, Owens won 348 games, six Big Eight Conference titles, and took the Jayhawks to the Final Four in 1971 and 1974.
Though Owens made light of Self's abilities on the court, he expressed admiration for the current coach's skills on the sidelines.
"I think the Kansas program is in great hands," Owens said. "Bill Self is a great communicator, he's a great recruiter, and he's a great teacher."
But most of the evening's praise was reserved for Owens. Several former KU basketball standouts who played for the 75-year-old Tulsa resident, shared stories, some lighthearted, some serious, about the third-winningest coach in KU history.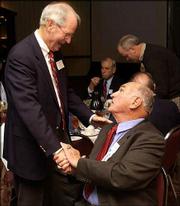 Jo Jo White, whose potential game-winning shot against Texas-El Paso in the 1966 NCAA Tournament was discounted when an official called him out of bounds, said Owens had taught him how to be a good person as well as a basketball player.
"I love you from the bottom of my heart," White said to Owens.
Former Missouri basketball coach Norm Stewart offered an appreciation of Owens in a video message projected on screens in the dining hall. Stewart was scheduled to attend, but had to cancel to attend the first game at Missouri's new Paige Arena on Thursday night.
"I'm waiting," Stewart said after a few seconds of dead air at the beginning of the taped message, "for you all to stop throwing things at the screen."
Scott McMichael, the Director of Community Development for the Bert Nash Center, estimated that the event had raised roughly $50,000 for the organization.
Kansas University coach Bill Self attended Thursday night's "An Evening with Ted Owens and Friends" benefit for Bert Nash Center.Owens, 75, was head coach at KU from 1964 to '83."I love the guy. He was one of the first people I talked to when I got the job here," Self said. "He feels great about coming back. I feel great that we're recognizing him and recognizing some of the great players he coached this season."KU will be hanging the jerseys of Owens-era players Bill Bridges, Dave Robisch, Bud Stallworth, Darnell Valentine and Walt Wesley in the rafters of Allen Fieldhouse this season.
Copyright 2018 The Lawrence Journal-World. All rights reserved. This material may not be published, broadcast, rewritten or redistributed. We strive to uphold our values for every story published.