SOUTH BEND, IND. — Like many students at Notre Dame, offensive tackle Ryan Harris finds time every day to pray, thanking God for his many blessings.
Unlike most other students at Notre Dame, though, Harris prays facing Mecca.
Harris is Muslim and finds nothing unusual in attending the nation's best-known Roman Catholic university.
"This is just a great place to be for anybody of any faith," Harris said. "I definitely like the morals that are taught at this school ... weren't taught at other schools."
Harris, a sophomore starter from St. Paul, Minn., thinks a lot of Muslims are drawn to faith-based schools because the stricter codes fit their lifestyles.
Coming to Notre Dame just seemed natural to him. Harris had attended a Catholic high school, and Notre Dame let him know the university had a Muslim student association.
"Notre Dame did a good job in recruiting me, introducing me to Muslims and the type of Muslims that are here in the community," he said.
Coach Tyrone Willingham said an obstacle he faced in recruiting non-Catholics to Notre Dame was that opponents tried to convince players that they might not fit in at the school.
"What we've found is that Notre Dame is a place that respects one's spirituality," Willingham said. "Therefore, I think Ryan's been comfortable in his religion and been able to function well in our program."
Harris said Notre Dame was showing its openness to all religions in its attempts to bring Muslim scholar Tariq Ramadan to the school to teach. The U.S. government revoked Ramadan's work visa this summer at the request of the Department of Homeland Security.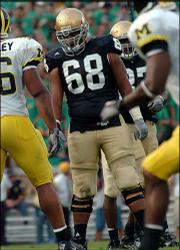 Ramadan, a Swiss citizen, has been criticized for alleged links to Islamic militants and for remarks branded anti-Semitic. He has denied links to militants and said he was not anti-Semitic and opposed all violence.
Harris said he was proud his university was fighting to bring Ramadan to the school.
"To some people that might just be a good publicity thing, but for Muslims and students who know about Islam, that's a big step this university is taking and a very bold step," Harris said. "I could sense that when I was being recruited."
Harris was not raised Muslim. His parents are Unitarian. He said he became interested in Islam in eighth grade through a social studies class. He wanted to learn more, so his parents gave him books on the subject.
"I looked into it and found that a lot of things that I disagreed with in other religions I agreed with with Islam," he said. "It was just a great feeling."
Harris was a junior in high school when the terrorist attacks occurred Sept. 11, 2001. The attacks caused friends to question him about his religion, and he had questions of his own.
"It gave me a great opportunity to look into the religion that I practice and make sure this is something I wanted to be into, because it was still roughly new to me," he said. "It gave me a real good chance to tell people close to me and give them the true Islam, the peaceful Islam that is practiced by 99.9 percent of Muslims around the world."
Harris said the only problem he had practicing his religion at Notre Dame was he couldn't fast during Ramadan. It's not that the football team doesn't allow it. Harris said he couldn't physically do it and play football -- which would be a problem this year because Ramadan runs from mid-October through mid-November.
Harris, who has had trouble gaining weight and was featured on an MTV program two years ago as he tried to put on pounds, said he fasted on Oct. 18 and it took him three days to recover.
"I couldn't do it," he said.
Harris tries to make up for it by forgoing other things, like television, listening to music and instant messaging, to give him more time to focus on his faith.
"Just things like that that free up my time so I can reflect on my faith and my spirituality. That's really something I should be doing all the time," he said.
He also finds no conflict with attending Mass on game days with his teammates.
"I look at it this way. If I was at a Muslim school and I had a Catholic friend, I'd want them to just enjoy the time of faith. That's how I look at it, as a time of faith," he said. "It's just a good time for me to reflect on my faith also. It's a good time for me to give thanks and realize my blessings."
Copyright 2018 The Associated Press. All rights reserved. This material may not be published, broadcast, rewritten or redistributed. We strive to uphold our values for every story published.