Kansas City, Mo. — Members of the Jackson County Sports Authority, which oversees the stadiums used by the Kansas City Chiefs and Royals, will have a lot to talk about when they meet today for the first time since voters shot down a ballot initiative that could have provided $600 million for stadium renovations.
The so-called Bistate II measure, which proposed a quarter-cent sales tax for renovations and the arts, failed in four out of five metro-area counties Tuesday.
Management for the Chiefs and the Royals said they remained committed to Kansas City and would live up to their leases, which end in 2014.
After that, it's anybody's game.
The teams have voiced optimism since Tuesday's defeat, saying they would work with the authority to get the renovations completed. But they also have noted that they would begin considering all of their options to make sure they wouldn't fall further behind their football and baseball peers in other cities.
The Chiefs are looking at prospects for building a new stadium in 2014 rather than renovating Arrowhead, which opened in 1972.
"That is probably where we need to begin to think," said Hunt, who maintains that he has no plans to relocate the team that enjoys one of the most fervent followings in the NFL and consistently sells out home games.
Mark Gorris, vice president of business operations for the Royals, said that the baseball club also had no plans to get out of its lease.
"Our focus is to remain a viable entity within the metro area," Gorris said. "We believe that can happen. We're going to do the best we can with what we have."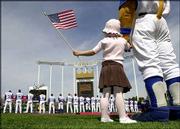 The teams' leases depend on a number of potentially expensive repairs and expansions being completed, said Dick Berkley, incoming authority chairman, and it is unclear now where his organization will get the money.
Without those repairs, Berkley said, the teams could argue in the coming years that the leases are worthless and look to greener pastures either.
"There is that vulnerability," he said. "That's why we had the vote."
The authority now receives about $11 million a year for maintaining the Truman Sports Complex through a combination of state and local funding, as well as rent from the teams.
Most of the money is used to pay off debt from previous renovations, he said. Authority members will get a list today of what projects need to be done immediately, plus cost estimates.
Gorris said needed repairs at Kauffman Stadium would include replacing plumbing and wiring, increasing the number of bathrooms and concession stands, more than doubling the width of stadium concourses to reduce bottlenecks, building more luxury suites and installing scoreboards.
"We need to have them done because then we can operate in a fan-friendly atmosphere," he said, adding that the 31-year-old stadium soon would face competition from a new Busch Stadium in St. Louis.
Copyright 2018 The Associated Press. All rights reserved. This material may not be published, broadcast, rewritten or redistributed. We strive to uphold our values for every story published.