Tampa, Fla. — The Kansas City Chiefs had the second-best record in the NFL last season, but that didn't mean much when the team was dropping back-to-back-to-back games to open the 2004 campaign.
Or did it?
"We proved what kind of a team we were last year, so we just kept believing," Chiefs middle linebacker Kawika Mitchell said Wednesday. "The way the season started we didn't feel represented us. We kept our poise, and things began happening for us like we expected all along. When you're consistent, you'll eventually play like it."
If the past two weeks are any indication, the Chiefs are back to being their consistent selves, which could be a scary proposition for the Tampa Bay Buccaneers on Sunday.
We'll give you 101 reasons why.
That's 101, as in the number of points Kansas City's offense has scored in eye-popping victories against two of the league's supposed elite the past two weeks.
l On Oct. 24, the Chiefs, on the strength of an NFL-record eight rushing touchdowns, crushed the Atlanta Falcons, 56-10. The Falcons entered the game with the league's top-ranked rushing defense but surrendered 271 rushing yards total and four touchdowns each to running backs Priest Holmes and Derrick Blaylock.
l Last week, Kansas City avenged its home loss in the playoffs last season against Indianapolis by holding off Peyton Manning and Colts in a 45-35 shootout despite a defense that gave up 505 yards and five touchdown passes. That's because the Chiefs finished with 590 yards and three more rushing scores from Holmes to go with three touchdown passes from red-hot quarterback Trent Green.
"Wow! I mean, that's mind-boggling," Tampa Bay defensive coordinator Monte Kiffin said. "I've never seen a team do that over two weeks."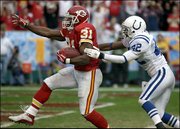 It's his job to make sure that it doesn't happen for a third. As such, the Buccaneers (2-5) hope to take a cue from the re-energized Chiefs (3-4) when the two meet Sunday. The Bucs got off to an 0-4 start, but they've won two of the past three and can get themselves back into playoff contention with a victory this weekend.
Tampa Bay is hoping to join Kansas City, Houston and Green Bay as teams that started slow before rebounding. The Texans started 0-2 but now are 4-3 and a half-game back in the AFC South. The Chiefs trail the Denver Broncos and San Diego Chargers by 11/2 games in the AFC West. The Packers started 1-4 but have won three in a row and are 11/2 games back in the NFC North.
Right now, the Bucs are focused on beating Kansas City. So how do you stop the Chiefs, whose gaudy offensive numbers and plowing run game are reminiscent of another famous team from the Midwest--Nebraska, circa the 1990s?
"Good question," Bucs free safety Dwight Smith said. "Those numbers are astounding. I know what you mean by Nebraska, but they were playing Sisters of the Blind. (The Chiefs) got theirs against the Atlanta Falcons and Indianapolis Colts, two respected teams in this league."
In a teleconference with Tampa reporters Wednesday, Chiefs coach Dick Vermeil said he had a bad feeling about his team coming out of training camp, which was held in Wisconsin.
There was too much travel back and forth, and a quirky exhibition schedule affected Vermeil's strict regimen and brutally efficient practice sessions.
"We got a little bit away from our profile," Vermeil said.
The Chiefs led the league in scoring the past two seasons but averaged barely 20 points through the first three games this season.
"Our expectations were high," said Holmes, who leads the NFL in rushing and scoring. "But we were humbled by those expectations."
It took an impressive 27-24 victory on a Monday night at Baltimore to remind the Chiefs what they were.
Vermeil, in his fourth season in K.C., didn't need reminding. He just was waiting for the offense to find itself.
"I knew each person on this team very, very well," he said. "I know them. I trust them. I know where their head and heart is. I know my coaching staff.
"I knew that if we just hung in there tough, didn't point fingers or blame people and were as persistent as hell and stuck to the plan, that we could pull ourselves out of it. That's exactly what we've done."
It's also exactly what the Bucs are looking to do. And their defense--tied for No. 2 in the NFL--should make things far more difficult on the Chiefs than their previous two opponents.
"I'm going to be very complimentary of Kansas City on offense and what we've seen from their football team," Tampa Bay Coach Jon Gruden said. "I'm also going to be very complimentary and confident in our defense. We don't feel like we're chopped liver here."
A loss, though, would mean a chopped-liveresque 2-6 record.
"We raise our hand and accept the challenge that this Kansas City football team is coming in here," Bucs linebacker Derrick Brooks said. "They have had a very impressive last two weeks. You have to respect that. But at the same time, we have to feel good about what we are doing. We've won two out of our last three ballgames, also. Something is to be said about that."
Copyright 2018 The Lawrence Journal-World. All rights reserved. This material may not be published, broadcast, rewritten or redistributed. We strive to uphold our values for every story published.