Memphis, Tenn. — Louisville and Memphis combined for 105 points, 1,202 yards of total offense and 15 plays of more than 20 yards.
But it was the shortest of runs -- a one-yard touchdown by Eric Shelton with 37 seconds left -- that proved to be the difference Thursday night as the 14th-ranked Cardinals escaped with a 56-49 victory.
"It was a good thing we had a lot of weapons," Louisville coach Bobby Petrino said. "It was exhausting. It was a full day's work."
The Cardinals (6-1, 4-0 Conference USA) came in with the nation's top-ranked offense. They gained 599 yards, 92 yards more than their average but four less than the Tigers (5-3, 2-3), who nearly beat a ranked opponent for the first time since 1996.
Shelton ran for 136 yards and four touchdowns on 14 carries, including a 78-yard TD in the second quarter. But his three short touchdown runs in the second half were the key.
"Every time we got on the field, we had the ability to score," Shelton said.
Louisville quarterback Stefan LeFors, the nation's most efficient passer, wasn't as sharp as his 76 percent season completion rate, but he still hit on 24 of 34 attempts for 321 yards and three first-half touchdowns without a turnover.
It was a wild game that featured 10 lead changes, capped when Shelton scored from the one to put the Cardinals ahead 54-49. LeFors ran in a two-point conversion, then Louisville's Abe Brown intercepted a pass to seal it with 21 seconds left.
"It was a big night for us on the national stage. We earned the right to be here," Memphis coach Tommy West said. "When we had them on third down, we could not stop them. Tonight I think we just got whipped on defense."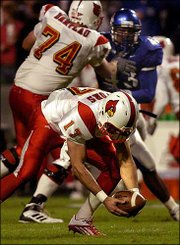 Louisville, which was 9-for-13 on third-down conversions, took a 48-40 lead after consecutive touchdown runs by Shelton, the second with 11:54 remaining.
Memphis answered when Danny Wimprine, who threw for four touchdowns and 361 yards, ran in from the one to make it 48-46. The Tigers failed on a two-point conversion attempt that would have tied the game.
But the Memphis defense got a key turnover when Shelton fumbled a handoff with 7:36 left, and Wimprine went back to work on the Tigers 39.
He led his team to the Louisville nine, but after a penalty, two incomplete passes and a two-yard run by DeAngelo Williams, Memphis settled for Stephen Gostkowski's 29-yard field goal and a 49-48 lead with 6:20 left.
That was plenty of time for LeFors, who gave the Cardinals their seventh play of more than 20 yards when he found J.R. Russell for a 28-yard completion to the Memphis 27. Russell finished with 146 yards and two TDs on seven catches.
Copyright 2018 The Associated Press. All rights reserved. This material may not be published, broadcast, rewritten or redistributed. We strive to uphold our values for every story published.