Eugene Hunter voted Tuesday for Democratic presidential candidate John Kerry.
He supported the Massachusetts senator throughout his campaign and let people know it by slapping a "John Kerry" bumper sticker on his truck.
Kerry didn't win. But Hunter said the bumper sticker would stay on his truck the next four years.
"Why take it down?" he asked. "We lost, but it's showing support and that you still have faith and trust in the man."
Taking it off, Hunter said, would mean he supported President Bush. And although he agrees with Bush on some issues, he disagrees on most.
Kansas University student Vijaya Ramasami's vehicle still displays his bumper sticker for one-time Democratic presidential nominee Howard Dean. One reason he kept it was because Dean might run again for president in 2008, Ramasami said. But he has another reason.
"I'll probably just keep it up because it's difficult to get off," he said.
Those not wanting a daily reminder of their candidate's loss can remove bumper stickers with adhesive cleaner and a little elbow grease. In a pinch, duct tape can cover an outdated sticker.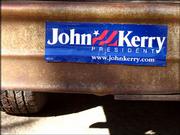 Auto detailers are experts at removing old bumper stickers -- not that they get asked too often in Lawrence to do it.
"Most of the time, people leave them on until they get old," said Ivan Hollins, who works at Auto Plaza Car Wash. "In a month we probably remove one or two."
Richard Steward, owner of Richard's Detailing & Mobile Wash, said he had removed everything from political to honor-student bumper stickers.
Try these steps to remove a bumper sticker:1) Spray the sticker with a lubricant, like WD-40, and try to peel it off.2) If the sticker isn't coming off, soften the adhesive with heat from a hair dryer.3) Start to peel off a corner of the sticker while continuing to apply heat, or gently scrape off the sticker with a rubber spatula or a putty knife with its metal blade wrapped in duct tape.4) Wipe the remains of the sticker away with a soft, lint-free rag dampened with rubbing alcohol.5) Buff the bumper with a polishing compound and a fresh coat of wax.Source: www.ehow.com
Copyright 2018 The Lawrence Journal-World. All rights reserved. This material may not be published, broadcast, rewritten or redistributed. We strive to uphold our values for every story published.