Washington — It isn't easy being green. It isn't easy getting on a U.S. postage stamp either, but Kermit the Frog will manage it next year, along with his Muppet friends.
New stamps also will recall the late President Ronald Reagan, singer Marian Anderson, actor Henry Fonda and songwriter Yip Harburg, notable scientists, famous Marines and sports cars, the U.S. Postal Service said Thursday.
"U.S. commemorative stamps portray individuals, subjects and events that are instrumental to the American experience," said David Failor, executive director of stamp services for the Postal Service.
Thousands of suggestions are culled for a few dozen stamps to be issued each year.
If he had to pull strings to get on a stamp, Kermit did it effectively, with no less than 11 stamps honoring the Muppets and their creator, Jim Henson, scheduled for debut in March.
Among those appearing in the set are, of course, Miss Piggy, as well as Statler and Waldorf, the Swedish Chef and Dr. Bunson Honeydew and his assistant Beaker.
On the more serious side, the stamp program will be recalling the Civil Rights Movement.
A 10-stamp set honors the courage of those who took part in that effort with stamps recalling President Truman's order integrating the military, the 1965 Selma to Montgomery march, sit-ins at "white only" lunch counters and the first black students to attend Central High School in Little Rock.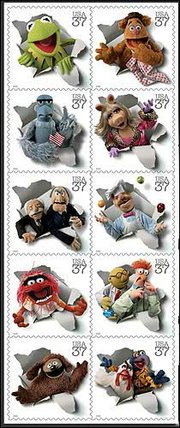 In addition to that set, singer Marian Anderson will be honored in the Black Heritage stamp series and tennis star and humanitarian Arthur Ashe will be recalled.
One of the great classic singers of the 20th century, Anderson was also active in the struggle for racial equality.
Other stamps planned for release in 2005 include:
Lunar New Year, a 12-stamp set showing all the animals associated with the Chinese new year cycle will go on sale in January.
Robert Penn Warren, a poet, novelist and educator who is depicted on the 21st stamp in the literary arts series.
Distinguished Marines, a four-stamp set commemorating John Basilone, who died in the battle of Iwo Jima; Daniel J. Daly, who served in World War I; John A. Lejeune, a World War I commander, and Lewis B. Puller, a commander in World War II and Korea.
The art of Disney, four stamps looking at celebrations as portrayed by Disney illustrators. For example, Mickey Mouse holds a birthday cake, Alice has a tea party in Wonderland and Snow White and Dopey do a lighthearted dance.
Constellations visible in the night sky, set of four stamps.
Copyright 2017 The Associated Press. All rights reserved. This material may not be published, broadcast, rewritten or redistributed. We strive to uphold our values for every story published.