London — In Europe and across the Middle East, Africa and Asia, President Bush's election victory produced two vastly different reactions: Some welcomed it, while others expressed a sense of gloom and resignation.
"For those who are great admirers of America, it's a sad day; it's like a death in the family," said Mairtin O'Muilleoir, a newspaper publisher in Belfast, Northern Ireland, who strongly disapproves of the war in Iraq.
"I think America is weaker after this election. And an America divided against itself (is) not going to play any kind of beneficial role in the world," he said.
In France, perhaps the epicenter of European hostility to Bush, a feeling of despair was almost palpable.
"This is not going to make the relationship on the two sides of the Atlantic any easier," said Guillaume Parmentier, director of the French Center on the United States.
"After the 2000 election, there was a feeling in Europe that, OK, he is a minority president, elected by one vote on the Supreme Court. Now that he is re-elected by a majority, Europeans will think, well, the Americans really want this guy," he said.
But soon after John Kerry conceded defeat, many Europeans turned their attention to the nuts and bolts of dealing with four more years of a Bush administration.
Christoph Bertram, director of the German Institute for International and Security Affairs in Berlin, complained about the Bush administration's "lack of professionalism" in its relations with European allies but also warned that it was time for Europe to face reality and set aside the anti-Bush rhetoric.
"Our political leaders have to make it clear to the public that our commonality is greater than the differences that divide us," he said.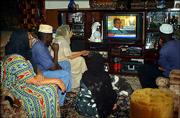 Governments around the world offered Bush their congratulations, but for some it had a perfunctory ring.
British Prime Minister Tony Blair, Bush's closest ally in the Europe, told Parliament on Wednesday that he would push the president to make a solution of the Israeli-Palestinian conflict a top priority in his second term.
But in the Middle East, there was little optimism. Even before Kerry conceded, many Arabs had resigned themselves to the re-election of Bush, whom they criticize for his strong support of Israeli Prime Minister Ariel Sharon, as well as U.S. handling of the war in Iraq.
With the headline on afternoon editions of Cairo's Al-Messa newspaper announcing that "Bush is Ahead of Kerry," some Egyptians said that meant the United States would keep an aggressive stance on Mideast affairs for four more years.
"A Bush victory will be a victory for his pre-emptive war doctrine," Egyptian political analyst Mohammed Sid Ahmed wrote in Al Ahram Weekly just before the vote.
At the top of the agenda for much of the region is the troubled U.S. effort to pacify and rebuild Iraq. Arab governments have openly blamed the Bush administration for failing to secure the country and, they say, permitting it to become a training ground for Islamic "holy warriors" from around the region.
Copyright 2017 The Lawrence Journal-World. All rights reserved. This material may not be published, broadcast, rewritten or redistributed. We strive to uphold our values for every story published.