Ruth Anne French says the stench in Malott Hall is reason enough to build a new science building at Kansas University.
"It's obvious, from being in there, that it's not well-ventilated," French said. "You have to keep the windows open, and it's freezing all the time. It smells awful."
A new $70 million undergraduate lab building, which would house biology, physics and chemistry facilities, is part of a tuition increase plan being proposed by the College of Liberal Arts and Sciences.
And while ventilation is part of the concern with the current science buildings -- primarily Malott and Haworth halls -- those pushing the plan say a new building would improve everything from faculty recruitment to the value of the KU degree.
"This is an attempt to bolster our instructional infrastructure on the main campus," said Kim Wilcox, dean of the college.
Wilcox and a steering committee of students -- including French, a senior from Partridge -- have proposed increasing tuition by $30 a credit hour for students taking courses from the college. The money would pay for the science facility, complete renovation of the inside and outside of Wescoe Hall, internal renovations at several other buildings and possibly a new social science building.
The committee is in the process of presenting the proposal to students during information sessions. KU's top administrators and the Kansas Board of Regents would have to approve the increase before it could take effect.
Opponents of the plan have said it should be the responsibility of the state or KU Endowment Association to fund construction of campus buildings.
Endowment priority
Officials have discussed the new science facility for about a decade. The Endowment Association has listed it among its priorities -- including a spot on the current KU First capital campaign wish-list -- but no money has been collected.
"A project of that magnitude needs a large initial gift -- for somebody to give $35 million or $40 million," Wilcox said. "After all these years of looking, the odds are pretty small."
The structure would be located east of Malott Hall.
Unlike the science labs under construction on west campus, which are dedicated to federally funded faculty research, the college building would house laboratories for biology, chemistry and physics. Most students in the college are required to take a lab science course.
James Orr, chairman of the division of biological sciences, said he saw several potential benefits for biology students. In addition to ventilation, he said, benefits of a new building include a more steady electrical system, better technology and better source of distilled water for experiments.
He said the new building would make recruiting faculty easier, and would help students in the three natural science fields work together more.
Need for new
Renovations at Malott and Haworth would be difficult, in part, because of a lack of ductwork space in the walls.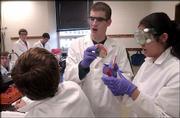 "The physical plant is one of the biggest obstacles we have in the biological sciences," Orr said. "It's the nature of the beast. Science demands space. Science demands reliable heating and cooling. Science demands reliable equipment."
And Orr said having students pay for the facility might be the best option. Every other school at KU except the School of Social Welfare already has a higher-than-base-rate tuition, and the social welfare school also is discussing increasing its rate.
"Certainly it's an option we should look at," Orr said. "I hope the students see their education can be directly benefited by having a higher-quality building."
French already is sold on the idea. She's currently taking a political science class in Malott.
"I hate the Wescoe (Hall) classrooms," she said. "But this class in Malott isn't a laboratory class. It's a sit-down class. And it's the worst classroom I've been in on campus."
Kansas University will honor seven students competing for three prestigious scholarships.The reception for those seeking Rhodes, Marshall and Mitchell scholarships will be from 5 p.m. to 6:30 p.m. today in the Malott Room at the Kansas Union.Rhodes and Marshall scholarships provide for graduate study in Great Britain. Mitchell scholarships provide for graduate study in Ireland.KU students in the running are:Ruth Anne French, senior from Partridge, Rhodes and Marshall scholarships; Jameson Jones, December 2003 graduate from Wichita and Highland Village, Texas, Rhodes and Marshall; William Lamborn, senior from Colorado Springs, Colo., Rhodes and Marshall; Lindsay Marion, senior from Wildwood, Mo., Rhodes and Marshall; Sean Pauzauskie, senior from Topeka, Marshall; Lauren Stewart, senior from Wichita, Mitchell; Chris Wiles, May graduate from Leavenworth, Marshall.Scholarship winners will be announced later this month.
Copyright 2018 The Lawrence Journal-World. All rights reserved. This material may not be published, broadcast, rewritten or redistributed. We strive to uphold our values for every story published.