Officials seem warm to an idea that could increase the stock of affordable housing in Lawrence, a city considered one of the state's most expensive for buying a home.
Affordable housing advocates asked city commissioners Wednesday for $750,000 for a new program similar to those on both coasts to boost long-term supplies of affordable housing.
Rebecca Buford, associate director of Lawrence's Tenants to Homeowners program, told commissioners at a study session that the organization planned to reinvent itself as the state's first community land trust organization.
"We feel like we have a chance to create affordable homes that would be affordable long after I'm gone and long after you're gone," she said. "We think they could really be affordable into perpetuity."
A land trust would create a home ownership arrangement meant to significantly reduce the amount of money low- to moderate-income buyers would be required to borrow from a lender. Unlike traditional home ownership, people who participate in a land trust own only the house and structures on the land. The trust, usually a nonprofit organization, owns the land.
Buford estimated a land trust in Lawrence could reduce by $40,000 to $60,000 the amount a low- to moderate-income resident would be required to borrow.
"What this does is take the cost of land out of the equation for the homeowner," she said. "This has really worked great on the coasts where the cost of land has become an issue. I think that's applicable here in Lawrence."
Funding needed
In exchange for assistance from the trust, home owners would sign a legal document limiting how much they could sell the home for when they move. Currently, Buford said the group was seeking to limit the resale price to 25 percent of the home's appreciation, not including the land, during each homeowner's tenure.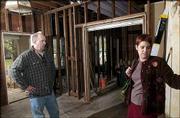 But to get the project started, Tenants to Homeowners -- which plans to change its name to the Lawrence Community Land Trust -- needs city money. Buford asked commissioners to transfer the approximately $500,000 that is in the city's affordable housing trust fund to the organization. Buford also asked city commissioners to discontinue the city's Homeowners Out of Tenants program and use the approximately $250,000 a year in federal funding it receives to fund the new program. The new program would serve the 20 to 30 people currently served by HOOT.
City officials were receptive to the idea. City Commissioner Sue Hack said she thought the program would be a good use of the city's housing trust fund, which was established in 2001 with money left over from the construction of the Lawrence Indoor Aquatic Center.
"I think this might be the perfect opportunity for us to put that money to use," Hack said. "We've always known the purpose of that money, but we haven't always had an idea of how to use it in a way to get the job done."
Eliminating the HOOT program also received interest from city officials. The program essentially pays for closing costs and will increase by 20 percent the amount a lender is willing to loan a low- to moderate-income home buyer.
Victor Torres, director of the city's neighborhood resources department, said a downside of the HOOT program was that there were no limits on the resale price of a HOOT home. Consequently, he said, a majority of HOOT homes became unaffordable after the original owner decided to sell.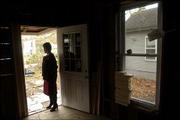 "With this new program, you should have more control in keeping your housing stock affordable for a longer period of time," Torres said.
A 'bad investment'
But the program has raised some concern in the real estate community. Gary Nuzum, managing broker of Coldwell Banker McGrew Real Estate, said he questioned how good a deal home owners would receive under the program.
Here's a look at how the land trust program proposed by Lawrence's Tenants to Homeowners would work:The agreement: Home owners would sign a 99-year lease with the land trust. The lease would allow home owners to use the property any way that they legally would be allowed to do if they actually owned the land. Home owners would be responsible for all maintenance and landscaping of the property.The participants: Eligible home owners must make less than 80 percent of the Douglas County median income as determined by the Department of Housing and Urban Development. For example, a family of four would need to make less than $49,750 per year.The scope: Organizers are hoping that the program would be able to serve 30 families in its first year.
"It sounds like it would be a bad investment for a home owner," Nuzum said. "I can't believe people wouldn't want to own the ground. I think people will have a hard time understanding that concept."
He also questioned the wisdom of not allowing home owners to sell their property for its full fair market value. He said the home owners would have all the expenses of home ownership, such as repairs and maintenance, but wouldn't be able to enjoy the full benefits of watching their home appreciate in value.
Jean Lilley, executive director of Lawrence Habitat for Humanity, said her organization was studying the idea but was not expected to adopt a similar system because it wanted its clients to experience the full benefits of home ownership.
Lilley said she wasn't yet convinced the program would be the best use of the city's housing trust fund money.
"I really don't know if it is the right thing to do yet," she said. "I will say we need to be creative in dealing with affordable housing in Lawrence, and this is creative.
"I think city commissioners need to give it serious consideration, but definitely think about all their options."
Copyright 2018 The Lawrence Journal-World. All rights reserved. This material may not be published, broadcast, rewritten or redistributed. We strive to uphold our values for every story published.