Berlin — People outside the United States could only watch, wait and vent as Americans lined up to vote Tuesday in an election that provoked an extraordinary degree of emotional involvement beyond U.S. borders.
Not just leaders and news media, but ordinary people were intrigued by the contest between President Bush and John Kerry, convinced that a world roiled by the U.S.-led occupation of Iraq, the war on terrorism, and cultural and religious conflict had a huge stake in the outcome.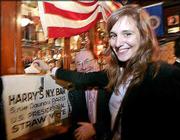 Saif-ur Rahman, a 36-year-old lawyer in Pakistan's capital, Islamabad, planned to watch the results come in and hopes for a change.
"Muslims have suffered under Bush whether they are in America or elsewhere," he said.
In Sao Paulo, Brazil, Wagner Markues, 54, also prefers Kerry and wonders why the race is so close.
"We don't understand America now," he said. "Are they getting different news than us about the scandals in the Iraqi prisons, and the children and civilians who are getting killed?"
One Arab country where the Republican ticket remained strong was Kuwait, freed by U.S.-led forces under the first President Bush after Saddam Hussein invaded in 1990.
"In Kuwait, we have love and respect for the Bushes because they moved the world to liberate Kuwait from its occupier," read a column in Kuwait's Al-Anba daily.
In Israeli papers, the U.S. election topped front pages, overshadowing even big local stories -- Yasser Arafat's illness and a suicide bombing in Tel Aviv.
Copyright 2018 The Associated Press. All rights reserved. This material may not be published, broadcast, rewritten or redistributed. We strive to uphold our values for every story published.