Bill Ahrens is on a roll.
For the second year in a row, Ahrens has won the Golden Chili Pot Award during a contest sponsored by the city of Lawrence to determine who, among its employees, can cook up the best batch of chili.
Ahrens won the contest Oct. 20 during a free cookout lunch the city treated its employees to in appreciation for their participation in the United Way of Douglas County's fund-raising campaign.
About a dozen people contended for the chili award, but Ahrens claimed the prize and his winnings: a miniature kettle (it's actually black, not golden) and two tickets to a Kansas University men's basketball game.
"Everyone said I had to enter the contest again to defend my title," said Ahrens, transportation planner for the city for the past three years.
His winning entry is, in fact, delicious. And it's a perfect, hearty dish to prepare as the cooler temperatures of fall settle in.
The thick chili contains: chorizo (Mexican sausage), ground turkey, tomatoes, navy beans, kidney beans, black beans, jalapenos, Anaheim peppers, cinnamon, cocoa powder, chili powder and cumin.
"I've been making it for a long time, though the cocoa powder and cinnamon are recent additions. The cinnamon gives it a touch of sweetness, and the cocoa powder is for richness and bringing out the taste of the tomatoes," said Ahrens, who lives in Roeland Park and commutes to Lawrence.
"I've made it for family gatherings and Christmas Eve. Everybody likes it."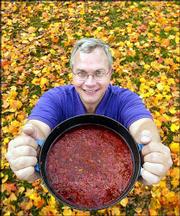 Tailgating feast
His prowess at turning out award-winning chili is simply the outgrowth of a longtime passion for experimenting in the kitchen.
"I love watching cooking shows; I watch the Food Channel while I fold laundry. I like watching 'Emeril' and 'Iron Chef.' I either pick up little tips and tidbits or critique what they're doing," Ahrens, 49, said.
He cooks almost every night for himself and his daughter, Jessie, 16, a junior at Shawnee Mission North High School.
His other daughter, Elizabeth, 19, is a sophomore at Kansas State University, studying psychology.
Some evenings the meals are basic, such as homemade potato-and-cheese soup. Other times, they're more ambitious.
"The other night we got a little fancy. We had a grilled pork tenderloin marinated in garlic, lime juice, soy sauce and fresh tarragon. Then I took some plum jam and Cabernet wine and made a sauce," he said.
Friends have suggested he open a restaurant or a catering business, but Ahrens said he wasn't interested.
"I think if you're doing it as a job, it wouldn't be as much fun."
Ahrens, interviewed last Friday, was planning to do all the cooking for a tailgate party in Manhattan before the football game between K-State and Texas Tech University.
1/2 pound chorizo (Mexican sausage)1/2 pound ground beef or turkey1 medium onion, diced3-4 cloves garlic, peeled and minced or crushed2-3 Anaheim or Hatch peppers, seeded and finely chopped2-3 jalapeno peppers, seeded and finely minced1 24-ounce can diced or crushed tomatoes1 tablespoon sugar2 teaspoons salt2 tablespoons cumin2 tablespoons chili powder2 tablespoons cocoa powder1 tablespoon Worcestershire sauce1/2 teaspoon ground cinnamon3 16-ounce cans beans, undrained (any combination of kidney, red, black, navy)In a large pot, brown chorizo and ground beef or turkey over medium-high heat. When almost done, add diced onion, garlic and peppers and saute until onions and peppers are cooked. Add tomatoes, sugar, salt, cumin, chili powder, cocoa powder, Worcestershire sauce and cinnamon, bring to a boil and reduce heat to low. Simmer about 10 minutes, stirring occasionally. Add beans with their liquid. Cook on low heat between 30 and 45 minutes, stirring occasionally. Adjust seasonings as needed.
He had more in mind than just beer and brats, though.
"I'm doing a grilled flank steak, sliced for sandwiches on sourdough rolls with a goat cheese spread, an assortment of cheeses and arugula. It has the potential for me to be feeding a pretty good crowd, if my daughter brings half the dorm," Ahrens said.
He earned a bachelor's degree in history in 1977 and a master's degree in urban planning in 1979, both from K-State.
Retains the title
Ahrens faced some stiff competition in the chili contest two weeks ago.
Paul Patterson, who also works in the city's planning department, won the People's Choice Award.
"He's a pretty good chef. It's the second year in a row that he's won," said Patterson, a Lawrence resident.
"My entry was called 'Melting Pot Chili.' It's pretty sweet. It has four different types of beans, ground beef, celery, jalapenos, green and red peppers, onions. It's mild and has a warm flavor to it."
He said one of the keys to making good chili is patience.
"Using fresh ingredients, giving yourself plenty of preparation time and letting it sit in the refrigerator for about a day after cooking. That helps the flavors to blend together," Patterson said.
Meanwhile, Ahrens has retained the title of chili champ among the city's employees.
"They're already saying (around his office) wait until next year, to see if I can do it three years in a row," he said.
Copyright 2018 The Lawrence Journal-World. All rights reserved. This material may not be published, broadcast, rewritten or redistributed. We strive to uphold our values for every story published.