Illinois
PRESIDENT (21 electoral votes) -- Kerry, as expected.
SENATE -- State Sen. Barack Obama, keynote speaker at Democratic convention, easily bested Republican Alan Keyes in race for seat of retiring GOP Sen. Peter Fitzgerald.
HOUSE -- Current: 10R, 9D. Democratic businesswoman Melissa Bean claimed upset win over Phil Crane, 35-year veteran congressman and most senior Republican in the House.
EXIT POLL -- Whites evenly split between Bush and Kerry, leaving blacks and Hispanics to carry state for Democratic candidate.
Indiana
PRESIDENT (11) -- Bush victory keeps GOP streak intact; Lyndon Johnson last Democrat to win here.
SENATE -- Democratic incumbent Evan Bayh turned back challenge from sociology professor Marvin Scott.
GOVERNOR -- In costliest contest in state history, former Bush budget director Mitch Daniels unseated Democratic Gov. Joe Kernan, who took office last year upon death of Gov. Frank O'Bannon.
HOUSE -- 6R, 3D. Both parties poured money into rematch between Democratic Rep. Baron Hill and trucking company owner Mike Sodrel. Hill won with 51 percent in 2002.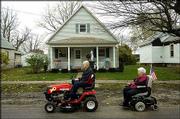 PROPOSITIONS -- Ballot question prompted by 2001 terrorist attacks would establish succession order for governor if lieutenant governor could not take his place.
EXIT POLL -- Though Daniels maintained state's economy was stagnant, half his supporters described it as good.
Iowa
PRESIDENT (7) -- State whose caucuses set Kerry on road to nomination in tight race.
SENATE -- Sen. Charles Grassley, head of the powerful Senate Finance Committee, handily won fifth term, defeating Democrat Art Small, a lawyer from Iowa City.
HOUSE -- 4R, 1D. Rep. Leonard Boswell, lone Democrat in delegation, faced repeat challenger in Stan Thompson, Des Moines attorney.
EXIT POLL -- Voters split by war: Those who thought the war in Iraq was the most important issue chose Kerry, while Bush won voters who cited the war on terrorism.
Michigan
PRESIDENT (17 electoral votes) -- Jobs and the economy were top issues for Michigan voters who felt the sting of the state's 6.8 percent unemployment rate and disappearing manufacturing jobs.
HOUSE -- Current: 9R, 6D. Former state Sen. John "Joe" Schwarz won a crowded Republican primary to replace outgoing Congressman Nick Smith and was expected to beat his Democratic opponent in the GOP-leaning district, the only open seat.
PROPOSITIONS -- Michigan voters approved changing the state's constitution to define marriage as a union between a man and a woman; they also required new gambling venues to get voters' approval.
EXIT POLL -- Voters most concerned about terrorism were going for Bush about 4 to 1, while about seven in 10 voters who said Iraq was the most important issue went for Kerry.
Minnesota
PRESIDENT (10) -- John Kerry prevailed, keeping 32-year Democratic winning streak alive despite major push by Republicans to give the state to President Bush.
HOUSE -- 4R, 4D. Incumbent Republican Mark Kennedy beat back strong challenge from Patty Wetterling, a missing children's advocate whose 11-year-old son Jacob was abducted in 1989.
EXIT POLL -- Uncommitted voters favored Kerry, with nearly two-thirds of self-described moderates supporting the Democratic nominee.
Missouri
PRESIDENT (11) -- Bush pulled out victory -- no surprise for Kerry campaign, which invested heavily but then backed off. State picked the winner in every election but one (1956) in last century.
SENATE -- Popular Republican Sen. Kit Bond defeated Democratic State Treasurer Nancy Farmer, becoming the first Republican elected to four Senate terms in Missouri.
GOVERNOR -- Democratic State Auditor Claire McCaskill -- who ousted incumbent Bob Holden in primary -- in tight race with Secretary of State Matt Blunt. She would be state's first female governor.
HOUSE -- 5R, 4D. Former Kansas City Mayor Emanuel Cleaver battled Republican millionaire Jeanne Patterson for seat vacated by Democrat Karen McCarthy. Democrat Russ Carnahan, son of former Sen. Jean Carnahan and the late Gov. Mel Carnahan, favored for 3rd District seat of retiring Rep. Dick Gephardt.
OTHER -- Another Carnahan, Russ's sister, Robin, won bid for secretary of state.
EXIT POLL -- Catholics nearly evenly split on president, despite urging from St. Louis archbishop to pick leaders who oppose abortion, embryonic stem cell research and gay marriage.
Nebraska
PRESIDENT (5) -- Bush, unsurprisingly. Since 1964, Nebraska has backed Republicans every time.
HOUSE -- 2R, 1 vacant. Republican Jeff Fortenberry, Democrat Matt Connealy and the Green Party's Steve Larrick vied to replace Republican Rep. Doug Bereuter, who left in 13th term to become head of the Asia Foundation.
PROPOSITIONS -- Competing gambling proposals: One would legalize two casinos anywhere in the state, the other two casinos in Omaha, and 4,900 video poker and slot machines around state.
North Dakota
PRESIDENT (3) -- Bush cruised to victory in a state that hasn't voted for a Democratic presidential candidate since 1964.
SENATE -- Holding to the state's tradition of mixed political tastes, Democratic Sen. Byron Dorgan won a second term. It's been 18 years since North Dakota elected a Republican to Congress.
GOVERNOR -- Republican incumbent John Hoeven was a clear winner.
HOUSE -- Democratic Rep. Earl Pomeroy defeated a former Navy submarine officer for a seventh term.
PROPOSITIONS -- Voters overwhelmingly approved constitutional amendment against same-sex marriages and civil unions.
EXIT POLL -- Nearly eight of 10 voters said their finances were same or better than four years ago; most supported Bush.
Ohio
PRESIDENT (20) -- Bush won by 3.6 points in 2000. Four years later, it was a battleground -- both candidates visited so often they almost grew buckeyes.
SENATE -- Republican Sen. George Voinovich claimed second term, easily defeating Democratic state Sen. Eric Fingerhut.
HOUSE -- Five-term incumbent Steven LaTourette easily defeated shopping center heiress Capri Cafaro, a 26-year-old Democrat who loaned her own campaign $1.7 million.
PROPOSITIONS -- Voters bolstered nation's toughest law banning gay marriage with even broader constitutional amendment against civil unions, despite fears from businesses that it would make it more difficult to hire and retain top talent.
EXIT POLL -- Nearly all of Ohio's voters made their decision in presidential race more than a month before election, splitting just about evenly between Bush and Kerry.
Oklahoma
PRESIDENT (7) -- Bush handily captured state that hasn't voted for a Democratic presidential candidate in four decades.
SENATE -- Obstetrician Tom Coburn won race to replace retiring Republican Don Nickles. Coburn was accused of sterilizing a woman without her permission, which he denied.
HOUSE -- 4R, 1D. Democratic state Rep. Dan Boren filled seat vacated by Brad Carson, who lost to Coburn for Senate.
PROPOSITIONS -- Voters approved constitutional amendment banning gay marriage, and measure giving state some authority over Indian casinos -- and a share of profits.
EXIT POLL -- Nine of 10 voters who considered moral values most important issue of presidential race voted for Bush.
South Dakota
PRESIDENT (3) -- Bush dominated.
SENATE -- Titanic struggle between Senate Democratic Leader Tom Daschle and former Rep. John Thune, who nearly unseated state's other senator, Tim Johnson, in 2002. Senate's top Republican, Bill Frist, broke precedent by campaigning against his counterpart across the aisle.
HOUSE -- 1D. Stephanie Herseth won special election in June to fill seat vacated by former Gov. Bill Janklow after he was convicted of manslaughter in car crash. She again faced strong challenge from Republican Larry Diedrich.
PROPOSITIONS -- Measure would end sales tax on food.
EXIT POLL -- Moral issues mattered most to South Dakota voters, followed by the Iraq war and terrorism.
Wisconsin
PRESIDENT (10) -- One of the most closely fought states. Ralph Nader on ballot again; in 2000, he pulled 94,070 votes in a state Bush lost by just 5,708.
SENATE -- Democrat Russ Feingold kept his seat, though national Republicans committed $600,000 in final weeks to campaign of construction company executive Tim Michels.
HOUSE -- 4R, 4D. State Sen. Gwen Moore of Milwaukee became first black House member elected from Wisconsin, replacing retiring Democratic Rep. Jerry Kleczka.
EXIT POLL -- Recent visits by the presidential candidates and their running mates appear to have paid off: One in 10 voters made a decision in the last three days.
Copyright 2018 The Associated Press. All rights reserved. This material may not be published, broadcast, rewritten or redistributed. We strive to uphold our values for every story published.