Connecticut
PRESIDENT (7 electoral votes) -- Kerry, solidly.
SENATE -- Democrat incumbent Chris Dodd skated past GOP challenger Jack Orchulli.
HOUSE -- Current: 3 Republicans, 2 Democrats. Two Republican incumbents, Chris Shays and Rob Simmons, in dead heats with challengers Diane Farrell and Jim Sullivan.
EXIT POLL -- Four in five made up minds more than a month ago; three-quarters feared another major terrorist attack.
Delaware
PRESIDENT (3) -- Kerry a winner in state neither candidate visited during campaign.
GOVERNOR -- Incumbent Ruth Ann Minner faced a surprisingly tough challenge from Republican Bill Lee, riding widespread criticism of what some said was her insensitive response to a prison inmate's abduction and rape of a counselor in July.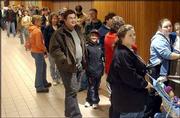 HOUSE -- 1R. Republican Michael Castle glided to seventh term.
EXIT POLL -- Men split between Bush and Kerry; nearly twice as many women voted for Kerry.
District of Columbia
PRESIDENT (3) -- John Kerry breezed in city where three-quarters of voters are Democrats.
HOUSE -- Delegate Eleanor Holmes Norton, a Democrat, cruising to an eighth term. Norton can vote in committee, but not on House floor.
OTHER -- Election marks return of former Mayor Marion Barry, once caught smoking crack on FBI videotape, now all but certain to be elected to city council.
Maine
PRESIDENT (4) -- Polls suggested lead for Kerry, but Bush hoped to pick off 1 electoral vote in the north; state allows votes to be split by congressional district.
HOUSE -- 2D. In 1st District, Republican challenger Charlie Summers took incumbent Tom Allen to task for giving up seat on the House Armed Services Committee. Maine has two shipyards and a Navy air base.
PROPOSITIONS -- Mainers deciding whether to cap property taxes at 1 percent of assessed value. Also: Should there be ban on using bait, hounds and traps to hunt bears?
Maryland
PRESIDENT (10) -- Kerry won in state Gore took by 17 points.
SENATE -- Democratic Sen. Barbara Mikulski easily survived challenge from millionaire state Sen. E.J. Pipkin.
HOUSE -- 6D, 2R. All incumbents favored, including No. 2 ranking Democrat Steny Hoyer, running in a district trending Republican.
EXIT POLL -- Almost six in 10 Marylanders disapprove of way President Bush is doing his job.
Massachusetts
PRESIDENT (12) -- Kerry took home state, which has sent him to the U.S. Senate four times.
HOUSE -- 10D. Incumbents all expected to win re-election handily, including Rep. James McGovern, who faced Ron Crews, a former Georgia state lawmaker at the forefront of anti-gay marriage movement in Massachusetts.
EXIT POLL -- Nearly two-thirds said they disapproved of the way Bush has handled job.
New Hampshire
PRESIDENT (4) -- Both candidates visited in closing days in razor-close race. State hasn't voted against a Republican incumbent since William Taft in the three-way election of 1912, and Bush won by just 7,211 votes in 2000.
SENATE -- GOP Sen. Judd Gregg breezed past 94-year-old Doris "Granny D" Haddock, scrappy but underfunded advocate for campaign finance reform.
GOVERNOR -- Democrat John Lynch neck and neck with GOP incumbent Craig Benson after hammering at ethical lapses of Benson appointees. But state has never refused an incumbent a second term since 1926.
HOUSE -- 2R. Five-term GOP Rep. Charles Bass comfortably ahead despite Democrat Paul Hodes' clever Bass-in-Bush's-pocket ad.
EXIT POLL -- About one-third of voters said they cast protest votes. Heavy turnout in New Hampshire delayed vote counting in precincts throughout the state, including the largest city, Manchester.
New Jersey
PRESIDENT (15) -- Kerry wins state decisively despite polls that had shown close race.
HOUSE -- 7D, 6R. Steve Brozak, former Marine challenging Republican Rep. Mike Ferguson in 7th District, switched parties last year, saying he was disenchanted by GOP attacks on military veterans like former Sen. Max Cleland of Georgia.
PROPOSITIONS -- Voters upset about high property taxes in town of Verona mulled seceding from Essex County; if measure passed, the town would have to join a different county or form its own. No New Jersey municipality has seceded in 73 years.
EXIT POLL -- One in eight voters said Tuesday was the first time they voted; they chose Kerry by a two-to-one margin.
New York
PRESIDENT (31) -- Kerry prevailed in state that has five Democrats for every three Republicans.
SENATE -- Democrat Charles Schumer, with $26 million war chest, easily triumphed over Republican Howard Mills and Conservative Marilyn O'Grady in bid for second term.
HOUSE -- 19D, 10R. Two Republicans -- Jack Quinn and Amo Houghton -- retired, and Democrat Brian Higgins and Republican Nancy Naples dueled for Quinn's seat.
Pennsylvania
PRESIDENT (21) -- Kerry and Bush in tight race in state that president lost by 4.2 points in 2000. Bush visited Pennsylvania 44 times during term.
SENATE -- Four-term Republican Sen. Arlen Specter, survivor of tough primary challenge from the right, held comfortable lead over Rep. Joe Hoeffel.
HOUSE -- 12R, 7D. Battle for Hoeffel's seat pitted Democratic state Sen. Allyson Y. Schwartz against Republican eye surgeon Melissa Brown -- one of 11 woman vs. woman congressional races nationwide.
OTHER -- State Auditor General Robert P. Casey Jr., son of the late former governor, running for treasurer against Republican Jean Craige Pepper, a financial consultant from Erie.
EXIT POLL -- Nearly two-thirds of voters in Philadelphia's suburbs backed Kerry.
Rhode Island
PRESIDENT (4) -- Went solidly to Kerry.
HOUSE -- 2D. Former Navy SEAL David Rogers tried for second time to unseat five-term Democratic Rep. Patrick Kennedy.
PROPOSITIONS -- Ballot measure would redistribute power in state government, keeping lawmakers off a host of boards and commissions.
EXIT POLL -- Votes for president corresponded strongly with views on Iraq war, with opponents of war overwhelmingly choosing Kerry.
Vermont
PRESIDENT: (3) -- Kerry an easy winner in state that has backed Democrats by no fewer than 10 points in past three elections.
SENATE -- Democrat Patrick Leahy, veteran of 30 years in the Senate, sailed to easy victory over challenger Jack McMullen.
GOVERNOR -- Republican incumbent James Douglas led throughout to win over Democrat Peter Clavelle, mayor of Burlington.
HOUSE -- 1 Ind. Rep. Bernie Sanders, House's only independent, won easy re-election.
EXIT POLL -- First state with gay and lesbian civil unions is getting to like them. State was split in 2000; now less than a quarter opposed and nearly half support gay and lesbian marriage.
Copyright 2018 The Associated Press. All rights reserved. This material may not be published, broadcast, rewritten or redistributed. We strive to uphold our values for every story published.