Douglas County set a record Tuesday.
Four years ago, 40,182 voters went to the polls -- a 76 percent turnout among registered voters. Early today, County Clerk Patti Jaimes cited an even higher turnout.
"The big difference this time appears to be from advance voters. There were more than ever before," Jaimes said.
With all 67 precincts reporting and advance ballots counted, 48,664 of 65,181 registered voters cast ballots. Jaimes estimated that as many as 10,000 advance ballots had been cast.
When the polls opened at 7 a.m., the line was long enough at Hillcrest School that arriving voters had to stand outside the building to wait their turn. It took one early voter a half-hour to get through the line and cast his vote.
And it was even more crowded on the west side of Lawrence.
Voters who arrived by 7:40 a.m. at First Southern Baptist Church had an hourlong wait, including 40 minutes outside in the cold wind.
Poll workers said some voters arrived at 7 a.m., saw the long line and went home, apparently planning to try again later.
Despite the heavy turnout, the election went smoothly, said Marni Penrod, deputy county clerk. Extra poll workers were added at each location to handle more voters, she said.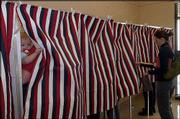 Two years ago, Douglas County had 52,838 active, registered voters. And 8,400 voters cast advance ballots. For Tuesday's election there were 65,181 registered voters.
'By far the biggest'
By 9:30 a.m., the wait to get into a voting booth at First Southern Baptist Church was about 30 minutes. Tom Eblen, a retired Kansas University professor, said it was "by far the biggest crowd I've ever seen for a presidential election going back to 1960, the first one I voted in."
Kate Maher's sneakers hit the pavement at 9 a.m. Tuesday, and they just kept going.
The Kansas University senior hiked the hilly neighborhoods surrounding the campus all day, placing fliers with voting information on every door she could get to.
"It was pretty cold in the morning, but I'm getting used to it," she said, as her hands shivered in 48-degree weather.
Maher was one of about 100 volunteers for the Democratic Party who were making a last-minute push to get Lawrence residents to the polls.
"I just had to feel like I was making some sort of difference, no matter how small it is," she said. "If I remind just three people to vote, then that's enough."
Many polling places saw higher-than-expected turnout. The morning rush lasted until about 11 a.m., a little longer than usual, several poll workers said. By 4 p.m., the lines to vote grew longer again.
At the 4th precinct location at Lawrence school district headquarters, 110 McDonald Drive, voter turnout was heavy enough in the morning that supervisor Barbara Bushell ordered more ballots from the clerk's office.
First-timers
In some precincts, it seemed to be the year of the virgin voter.
Nathan Cooper, who wasn't old enough to vote in 2000, waited nearly two hours outside Central United Methodist Church at 15th and Massachusetts streets to cast his first-ever ballot.
Cooper, a 20-year-old KU junior, said he wanted to vote for Kerry and 3rd Senate District Democrat Dennis Moore. "Besides that," Cooper said of the Kansas races, "I don't know much."
For other first-time voters, age wasn't the reason they hadn't voted before.
"I'm just more aware now," said 25-year-old Wayne Jackson, who voted for Kerry. "It's time for a change. I don't like what I see from Bush."
Volunteers at Central United Methodist said the first-time voters kept them busy. The line of voters only slowed down "for about five seconds, I think," Virginia Boyd said as she handed people ballots. Behind her, stacks of provisional ballots spilled onto a long folding table.
Mark Robinson sat at the table, filling out his own provisional ballot. He'd registered on campus, but, for reasons he couldn't explain, his ballot showed up in his mailbox.
"I wanted to come to the polls to vote," he said. "So I'm filling out one of these. I don't mind."
At the Coffin Sports Complex at Haskell Indian Nations University, nearly 100 people waited in line at 4:30 p.m. The line snaked around the gym floor, where a girls volleyball team held its regular practice.
Why the big turnout for this election? Allison Reeve, standing in line at Central United Methodist, said it was all about the issues.
"I'd like to see the war end, to see public schools be better funded," said Reeve, a KU student voting for the first time. "I think we need a new leader. We'll see if some things can be fixed."
Copyright 2018 The Lawrence Journal-World. All rights reserved. This material may not be published, broadcast, rewritten or redistributed. We strive to uphold our values for every story published.