Washington — As aides juggled nerve-racking election returns, President Bush invited reporters into his residence Tuesday night to record the tableau of the president, his family and his dog serenely watching the numbers that would determine whether he achieved the re-election that had eluded his father.
"We're very upbeat, thank you," Bush said when asked how it was going. Pressed on whether the winner would be clear Tuesday night, he said with a smile, "I believe I will win, thank you very much."
Polls were still open in several battleground states when he made the remarks at 8:37 p.m.
With cameras crowded into his West Sitting Hall on the rarely visited second floor of the White House, Bush broke the ice by asking Barney, the family's Scottish terrier, if he had anything to say. First lady Laura Bush, his parents and others were crammed onto a sofa, with Bush's daughter Barbara perched on one arm.
Elsewhere in the White House, about 30 friends and relatives from Texas and elsewhere had enjoyed a buffet of tamales and tenderloin before watching television.
Bush's senior staff and their spouses set up for the evening in the Roosevelt Room, where they had an Internet terminal set up along with three television sets, including one often used for classified videoconferences. The guests were given red, white and blue score cards -- complete with a map and a table of closing times and electoral votes -- to follow returns.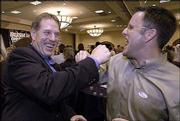 Bush started the day at his ranch in Texas, pronouncing himself satisfied that he had given the race his all. After voting at the Crawford volunteer fire station, Bush walked across muddy, narrow Avenue F to tell reporters that the election "is in the hands of the people, and I feel very comfortable about that."
"There's just something refreshing about giving it your all and then saying the people will make the right decision -- and I believe I'm going to win," he said.
Bush chuckled his full-body chuckle when a correspondent asked him how he accounted for all the passion that had been generated for and against him.
"Well, I take that as a compliment," he said. "I take a stand, and I tell people what I believe and what I think."
Copyright 2018 The Lawrence Journal-World. All rights reserved. This material may not be published, broadcast, rewritten or redistributed. We strive to uphold our values for every story published.