Boston — If Sen. John F. Kerry had any inkling what the night would bring, how his life might change for better or worse in a matter of hours, he did not betray the smallest hint as his two-year odyssey in search of the White House finally brought him home Tuesday.
On a marathon day filled with tension and hope, the Democratic challenger steadfastly kept his thoughts about the future to himself. But for someone who often seemed maddeningly unable to connect to voters, he was downright warm and sentimental.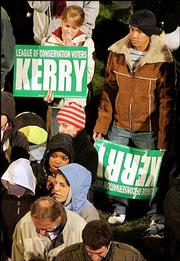 He embraced supporters in Wisconsin at his last campaign event, thanked teary staffers who had stuck with him when he was all but written off a year ago, and even reached out to the members of his traveling press corps, whom he had not spoken to in months.
It was as if he didn't not want the moment to end. "I don't think anyone can anticipate what it's like seeing your name on the ballot for president," he said wistfully, seconds after he voted in a basement room at the statehouse in Boston. He was accompanied by his daughters, Vanessa and Alex, who also voted, and by his wife, Teresa, who had voted in Pennsylvania.
By 10 p.m., Copley Square -- site of the Kerry celebration -- was a knot of thousands of nervous supporters, standing in the cold listening to Carole King and waiting for something to celebrate.
Copyright 2018 The Lawrence Journal-World. All rights reserved. This material may not be published, broadcast, rewritten or redistributed. We strive to uphold our values for every story published.