Mark Buhler's career as a state senator will be short-lived.
Buhler, a Republican appointed to the Senate in 2002, was unseated Tuesday by Democrat Marci Francisco, a former Lawrence mayor.
Francisco, 54, took approximately half the votes in the 2nd District race that may have split Republican voters between Buhler and Jim Mullins, a conservative who left the Republican Party to run as a Reform Party candidate. Buhler earned about 43 percent, and Mullins received about 7 percent of the vote.
"I talked with people who said, 'You knocked on my door 25 years ago,'" said Francisco, who was mayor from 1981 to 1983. "I talked to people who said, 'We appreciate what you've done over the years.' People want trust. You build that over time."
Buhler, a 50-year-old Lawrence real estate broker, served on the Douglas County Commission for eight years before being appointed to the Senate in 2002. He replaced Sandy Praeger after Praeger was elected state insurance commissioner.
"I think if you look at all the races, the (John) Kerry folks got out and voted, and they did a great job of voting straight-ticket," Buhler said. "Maybe they preferred Marci over me."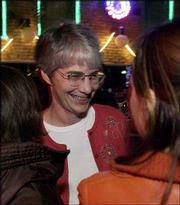 In some ways, Francisco and Buhler were similar candidates. Both said they were willing to raise taxes for schools, were pro-choice and opposed the same-sex marriage amendment.
Francisco, a space analyst at Kansas University, said she thought her focus on increasing income tax -- and not income and sales taxes -- for schools helped her campaign, as did her focus on helping the state's environment.
Buhler's campaign included containing health-care costs and helping small businesses create jobs.
Buhler said Mullins, who pledged not to raise taxes and limit school funding to the rate of inflation over the next three years, may have cost him the race. Mullins is opposed to abortion and favors the amendment banning same-sex marriage.
"I think the people who voted for Jim are very conservative," Buhler said. "They're good Republicans. If Jim hadn't've run, those people would have either not voted or probably voted for me. But that's life. That's how it goes."
Mullins said his candidacy was about giving Douglas County conservatives a choice.
"I'm sick and tired of conservatives having to hold their noses and vote for whoever the moderates come up with," Mullins said. "It was that way with Praeger, and it's that way with Buhler."
Copyright 2018 The Lawrence Journal-World. All rights reserved. This material may not be published, broadcast, rewritten or redistributed. We strive to uphold our values for every story published.