Six-year-old Shyanne Garcia may need help writing and spelling her name, but that didn't keep the Prairie Park School first-grader from voting Tuesday.
Shyanne participated in Kids Voting Douglas County with assistance from her father, Tony Garcia.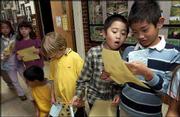 "I voted earlier, but she saw the flag and wanted to vote," Tony Garcia said of his daughter. "She even knew who she wanted to vote for."
Shyanne voted for Democratic challenger Sen. John Kerry, who won the Kids Voting poll with 2,230 votes -- or 50 percent of the votes. President George Bush received 1,963 votes -- or 44 percent of the votes.
In Douglas County, 4,426 ballots were counted. Some ballots were discarded because students voted for more than one candidate in some races.
Kids Voting is coordinated by the Lawrence Journal-World, Douglas County public schools, area businesses and the Roger Hill Volunteer Center. Students in kindergarten through 12th grade were able to vote.
President
Bush
1,963
Kerry
2,230
U.S. Senate
Brownback
1,455
Cook
169
Edwards*
0
Jones
1,470
Rosile
82
U.S. House: 2nd Dist.
Boyda
629
Hawver
102
Ryun
710
U.S. House: 3rd Dist.
Bellis
46
Kobach
807
Moore
970
Wells
39
*Edwards was a write-in candidate
About 80 Lawrence High School juniors and seniors tallied the votes Tuesday night in the commons area at LHS, 1901 La. All the students were in one of three classes taught by history and government teacher Paul Stuewe.
Parents whose children had voted said they appreciated the program because it allowed their children to be involved.
"I heard about it, and I thought it would be a good experience for my daughter," said Lisa Vanderbilt. Her daughter Sydney Vanderbilt, who is 8, voted at Prairie Park. She said the best part was being able to make her own decisions.
Katelyn Graham, 9, agreed.
"I like this because you have to be 18 to vote, but this lets me vote even if it doesn't really count," Katelyn said.
She made her decision after doing some research. While she wouldn't say which candidate got her vote, she made it pretty clear.
"I don't like President Bush," she said. "He's going to ruin Alaska."
Copyright 2018 The Lawrence Journal-World. All rights reserved. This material may not be published, broadcast, rewritten or redistributed. We strive to uphold our values for every story published.