AUBURN HILLS, MICH. — Yao and T-Mac experienced what Shaq and Kobe did. The defending NBA champion Detroit Pistons are a tough match for any dynamic duo.
Rasheed Wallace, one of five Pistons to score in double figures, had 24 points, helping Detroit defeat the Houston Rockets, 87-79, Tuesday night in the first game of the NBA season.
"A lot of people are still doubting us, so I guess we just have to go win it all again," Wallace said.
Tracy McGrady and Yao Ming, playing their first regular-season game together, found out what Kobe Bryant and Shaquille O'Neal did during their final five games together with the Los Angeles Lakers: The Pistons, relentless on defense and well-balanced on offense, are difficult to beat.
"When you have one or two guys, we've got five coming at you," Richard Hamilton said.
McGrady missed 12 of 18 shots and finished with 18 points after scoring just three during the first half. Yao had just seven points on 2-of-9 shooting.
"They play 'D'. That's why they won a championship," McGrady said. "They did a great job of picking up the intensity in the second half, and they hit shots in the fourth."
Detroit's entire starting lineup from last season is back, and all five players scored at least 10. Aside from Rasheed Wallace's big night on 10-of-19 shooting, Chauncey Billups had 17, Hamilton scored 15, Ben Wallace had 15 points, 10 rebounds and three blocks.
Tayshaun Prince scored 10 while smothering McGrady defensively much like he did against Bryant during the NBA Finals.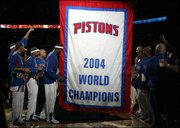 "It's very similar to guarding Kobe," Prince said. "I just had to use my length."
The Rockets shot just 39 percent. Charlie Ward had 13 points, Maurice Taylor had 12, and Jim Jackson added 10.
Mavericks 107, Kings 98
Dallas -- Dirk Nowitzki scored 29 of his 33 points during the first three quarters, helping Dallas to a steady lead, then came through by making two free throws with 15.5 seconds left to seal a victory over Sacramento. The Mavericks scored the game's first seven points and led by at least that many from the end of the first quarter until Chris Webber hit a long jumper with 3:12 that made it 99-93.
Copyright 2018 The Associated Press. All rights reserved. This material may not be published, broadcast, rewritten or redistributed. We strive to uphold our values for every story published.