The Kansas University football team's already-stagnant offense received a big blow in the wake of the Jayhawks' 13-7 loss Saturday to Iowa State.
Coach Mark Mangino said Monday on the Big 12 coaches teleconference that quarterback Adam Barmann likely was done for the year, the victim of a second-quarter injury Saturday in Ames, Iowa. The sophomore appeared to have hurt his right shoulder.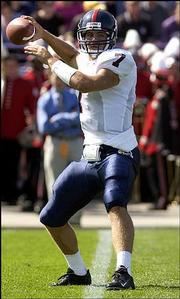 "Adam won't be able to participate the rest of the season," Mangino said. "Our team (orthopedist) informed me that his injury will keep him out the remainder of the season."
Mangino said the injury wouldn't require surgery, but, as is his policy, he wouldn't discuss specifics.
He did say junior Jason Swanson now was the starter. Swanson, a junior-college transfer, played the second half against ISU and finished with 70 yards and a touchdown on 7-of-14 passing. He also rushed for 45 yards on 10 carries.
For the season, Swanson has passed for 171 yards and two touchdowns playing in parts of five games.
"Certainly we want to play to the strengths of Jason," Mangino said. "We're not going to throw our offense out the window, though. It's a system we believe in."
Barmann, a right-hander, suffered the injury after he scrambled out of the pocket and was tackled for a four-yard gain in the second quarter Saturday. He stayed in for one more play -- a handoff to Clark Green -- but was in obvious pain and motioned to be taken out once the play was complete. Kansas called a timeout and removed Barmann from the game.
After he was examined by trainers, Barmann stood on the sideline testing the shoulder with a throwing motion and by swinging his arm around. Near the end of the first half, though, Barmann went to the locker room, and returned after halftime wearing a baseball cap.
"I talked to him Saturday after the game, and he just told us something was wrong," said Barmann's father, Mike, who heard the news on the radio Monday. "It just didn't feel right. He knew there was something wrong in there."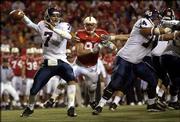 Mangino stayed optimistic when speaking to beat writers Sunday afternoon, saying Barmann would start Saturday against Colorado if he was healthy. But the third-year coach received the bad news Sunday night when results of an MRI revealed the severity of the injury.
Mangino said there was a small chance Barmann could recover in time for KU's regular-season finale Nov. 20 at Missouri, but he's not counting on it.
"(KU's orthopedist) really doesn't think so," Mangino said. "It would take a really miraculous recovery."
In eight games, Barmann passed for 1,427 yards with 12 touchdowns and nine interceptions. The Weston, Mo., native's plight is another in a long line of KU quarterback injuries in the Mangino era. Last year, Bill Whittemore missed three games because of a shoulder injury, and in 2002 Whittemore missed the end of the season because of a knee injury. Barmann's and both of Whittemore's injuries were a result of being tackled on a quarterback scramble.
Now the Jayhawks will rely on Swanson, who, of the KU quarterback fleet, is the most successful at the QB scramble. Though Swanson has shown timidness in his first few games as a Division One quarterback, he may have had his best performance of the year Saturday against Iowa State.
"He can give you trouble in the pocket in terms of containing him," Mangino said. "He's not afraid to take a chance, either. He'll make a big play because he's not afraid to take a shot at something."
The Jayhawks only can hope that's true.
Copyright 2018 The Lawrence Journal-World. All rights reserved. This material may not be published, broadcast, rewritten or redistributed. We strive to uphold our values for every story published.