For many Lawrence residents, summer doesn't truly begin until they unfold their lawn chairs at South Park and hear the first trumpet calls from the Lawrence City Band.
They won't have to wait much longer.
The band launches its summer-long series of outdoor concerts Wednesday, and although enthusiasts will hear the traditional marches they've come to love and be able to bask in the family-friendly environment they've come to expect, a certain buzz will permeate the season because of "all the sesquicentennial excitement," says Robert Foster, who conducts the band.
"There's a flurry of activity that's really much more significant than just business as usual," he says.
The season opener, aptly titled "A Sesquicentennial Celebration," will feature Foster's "Lawrence Sesquicentennial March," which the band premiered last summer. Since then, the work has been published, and the sheet music bears a picture of the South Park Gazebo, where the band has played since 1970.
The composition stays true to the roots of traditional marching music, but Foster included a "fancy" clarinet part in honor of former city band conductor and clarinetist William Kelly, to whom the march is dedicated.
Also on the first concert will be an original work by Kansas University music professor James Barnes, called "The Silver Gazebo" march. Barnes composed the piece specifically for the Lawrence City Band.
Among other works lined up for the evening are "Emblem of Unity" by J. J. Richards, "Suite of Old American Dances" by Robert Russell Bennett and "Salute to Kansas" by John Philip Sousa.
All summer band concerts begin at 8 p.m. in the park, 11th and Massachusetts streets.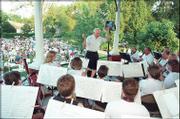 The band is composed of young and old players from many different backgrounds, including professional musicians. Most of the band's members have played with the group for years, and some drive to Lawrence from Emporia, Topeka, Ottawa and Kansas City each week.
Foster has directed the city band since 1992, when ill health prevented Kelly from manning the helm any longer. Foster, former director of bands at KU, is a music professor and assistant chair of music and dance at the university.
He likes to tell a story to illustrate the value of the band's summer concerts.
A few years ago, a Chicago businessman in town for meetings checked into his hotel and then, looking for something to do the evening before his engagements, wandered down to South Park. He walked right into a city band concert.
After the performance, the man told Foster the experience had been enchanting -- like going back to a time when people were still nice to each other and 1,500 people could gather in a park without uniformed police patrolling to keep the crowd under control.
The band gets that reaction a lot, Foster says.
"It's a way that in this modern, crazy, out-of-control world that we're all part of ... that you can sort of connect back to a gentler, quieter time when everyone was not living life in the fast lane," he says. "It's a nice break in the middle of the week."
All concerts are at 8 p.m. Wednesdays in South Park, 11th and Massachusetts streets.¢ Wednesday, the season opener, "A Sesquicentennial Celebration," music from or about Lawrence and the westward expansion¢ June 9, Flag Day/Veterans' Salute, celebrating our patriotic heritage and honoring veterans¢ June 16, Children's Concert, music for the young and young at heart¢ June 23, A Circus Concert, great circus marches by Karl King, Henry Fillmore, Julius Fucik and more¢ June 30, Celebrate America, a Fourth of July concert, including the "Battle Hymn of the Republic" with an audience sing-a-long¢ July 7, "Shall We Dance?" music from the big band era, polka, "My Fair Lady" and folk dances¢ July 14, Lawrence City Band World Tour 2004, an international musical adventure¢ July 21, Season Finale, featuring the "1812 Overture," "Stars and Stripes Forever" and a fireworks show
Copyright 2018 The Lawrence Journal-World. All rights reserved. This material may not be published, broadcast, rewritten or redistributed. We strive to uphold our values for every story published.