Montreal — Ken Griffey Jr. pulled even with Hall of Famer Lou Gehrig on the career home run list, the last man between him and the 500 homer club.
Griffey hit his 493rd homer and Sean Casey went 4-for-5 with three RBIs as the Cincinnati Reds held on for a 7-6 win over the Montreal Expos on Friday night.
Griffey hit a two-run shot off Claudio Vargas (4-2) following Casey's RBI double in the fifth to tie Gehrig for 20th on the career list.
"It's just one of those things that I'll take one day at a time and see what happens -- I'm still a few away" Griffey said. "My main objective is to win ballgames and see what happens from there."
The homer capped Cincinnati's second three-run outburst and increased its lead to 6-2.
Three of Casey's hits were for extra bases, including a double in the first and a two-run homer in the third, his seventh of the season. He singled off Jeremy Fikac in the sixth.
"It's just a matter of having quality at-bats," said Casey, who raised his NL-leading average to .390. "I've swung the bat like this before so I have had some stretches where I've done this, so for me it's really not looking at the numbers so much but just trying to lock in on every at-bat, every pitch and having good at-bats."
Cory Lidle (4-4) allowed five hits and five runs in 6 2-3 innings. He pitched his NL-leading third complete game in his last outing, a six-hitter for his third career shutout in a 7-0 win over Houston on Sunday.
Jose Vidro had an RBI grounder and Tony Batista homered in the first for Montreal, which saw its NL-worst record drop to 15-32.
Lidle also allowed a solo homer to Brad Wilkerson, whose leadoff shot in the sixth cut the lead to 6-3.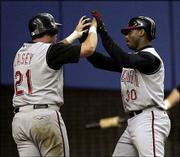 The Reds starter contributed an RBI single in the seventh off Luis Ayala to make it 7-3.
"Ayala just didn't do the job and at the time in the dugout we said, 'that's a big run."' Expos manager Frank Robinson said. "And I meant that sincerely, it was a big run because he gave it up to a non-offensive player and that hurts."
The hit proved to be the difference as the Expos scored three in the bottom half to close to within one.
Orlando Cabrera and Carl Everett led off the inning with consecutive doubles to draw the Expos to within 7-4.
Pirates 9-5, Cubs 5-4
Pittsburgh -- Craig Wilson hit a game-winning home run in the 10th inning Friday night to give Pittsburgh a 5-4 victory and doubleheader sweep of Chicago. In the first game, Rob Mackowiak hit his first career grand slam with two outs in the bottom of the ninth, giving the Pirates a 9-5 win.
Mackowiak, who became a father for the first time earlier in the day, also hit a two-run homer in the ninth inning of the nightcap to tie it at 4. He entered as a defensive replacement for center fielder Ruben Mateo in the seventh, and hit the first pitch he saw from LaTroy Hawkins in the ninth to tie it at 4.
Marlins 2, Mets 1
Miami -- Dontrelle Willis allowed four hits and one run in seven innings, winning for only the second time in his last six starts and lifting Florida over New York. Luis Castillo had three hits, scored a run and drove in another for the Marlins, who beat the Mets for the ninth time in their last 11 meetings dating to last season.
And Willis (5-3) beat the Mets for the fourth time in as many starts against them, yielding only two runs in 28 innings in those matchups.
Todd Zeile hit his third homer of the year for the Mets, who lost for just the fifth time in their last 14 games.
Armando Benitez, facing his former team for the first time since they traded him to the New York Yankees last July, pitched a perfect ninth for his 19th save in 20 chances.
Willis rolled through the first three innings, yet found trouble in the fourth. Zeile homered to lead off, Cliff Floyd walked and Mike Piazza followed with a single that got by Marlins right fielder Miguel Cabrera, who was charged with an error.
But Willis got out of the jam with runners on second and third with no outs by striking out Shane Spencer and, after intentionally walking Jason Phillips to load the bases, fanning Mike Cameron. Ty Wigginton lined out to center to end the inning.
Tom Glavine (6-3) was coming off a one-hitter Sunday against Colorado, but the Marlins -- who entered hitting .270 off left-handers -- scratched out two early runs against the Mets' best starter this season.
Giants 4, Rockies 2
San Francisco -- Barry Bonds hit a two-run walkoff homer with two outs in the ninth to lead San Francisco to its season-best seventh straight victory. Bonds connected for his 13th homer of the year and No. 671 of his career on a 3-2 pitch from Tim Harikkala. It came after Shawn Chacon blew his second save in two nights when he allowed a two-run single to Marquis Grissom in the ninth that tied it.
Phillies 3, Braves 2, 10th innings
Philadelphia -- Tomas Perez tied it with an RBI double in the eighth inning and won it with a homer in the 10th to lead Philadelphia over Atlanta. Perez, starting in place of injured slugger Jim Thome, slammed a 2-1 fastball off Antonio Alfonseca (5-1) into the seats in right-center for his fourth homer of the season. Tim Worrell (1-1) pitched two scoreless innings in relief for the victory.
With the Braves leading 2-1, Phillies second baseman Chase Utley singled off Chris Reitsma with one out to extend his hitting streak to 11 games and Perez followed with a double down the right-field line, scoring Utley and tying the game.
Philadelphia's Randy Wolf, who missed his last start because of elbow tendinitis, allowed six hits and one earned run, walked two and struck out four in six innings.
Dewayne Wise homered for Atlanta, which lost three players to injuries. The Braves scratched first baseman Julio Franco minutes before the game due to back problems, then lost outfielder Chipper Jones and Franco's replacement Adam LaRoche in the first two innings.
Jones was hit above the left knee with a pitch and didn't return to the field in the bottom of first. LaRoche was injured an inning later in a collision with Phillies catcher Mike Lieberthal.
Cardinals 2, Astros 1, 10 innings
Houston -- Ray Lankford scored on Octavio Dotel's balk in the 10th inning and St. Louis defeated Houston. A pitching duel between Houston's Roger Clemens and St. Louis' Chris Carpenter was overshadowed by the game's wacky and thrilling ending.
Dotel (0-3) walked Lankford to start the 10th, and Scott Rolen singled to send Lankford to third. With Jim Edmonds at the plate, Dotel feined a throw toward the plate and third-base umpire Hunter Wendelstedt ruled it was a balk, allowing Lankford to score the winning run. Houston manager Jimy Williams came out to protest to no avail as Dotel raised both arms in confusion.
Jason Isringhausen (3-1) gave up three hits -- including Lance Berkman's RBI double in the ninth inning -- in two innings and got the win.
Carpenter allowed only a pair of singles and held the NL's top offense scoreless for eight innings, and nearly earned his fifth straight win until the frantic finale.
Clemens went seven innings, allowing up six hits and a fourth-inning homer to Rolen with six strikeouts.
Padres 5, Brewers 3
Milwaukee -- Mark Loretta hit a go-ahead RBI single in the seventh inning, Brian Lawrence tied a career high with 10 strikeouts in seven solid innings and San Diego beat Milwaukee. Pinch-hitter Sean Burroughs hit his first homer of the season, and Jay Payton drove in two runs for the Padres.
Lawrence (7-3) allowed two runs -- one earned -- and four hits, and didn't walk a batter for the first time this season. He fanned 10 for the third time in his career, and first since Aug. 2, 2002, against Cincinnati.
Akinori Otsuka pitched a hitless eighth, and Trevor Hoffman allowed an RBI double by Geoff Jenkins in the ninth before finishing for his 13th save in 14 chances.
Copyright 2018 The Associated Press. All rights reserved. This material may not be published, broadcast, rewritten or redistributed. We strive to uphold our values for every story published.