Wichita — The way Lawrence High's Sylvester Birdsong started his final state track meet Friday, he might need to change his last name to Swansong.
After a slightly lackluster season, the Lions senior recaptured the form in the long jump that helped him earn a state title as a sophomore.
Birdsong fouled on his first attempt at Cessna Stadium, but then launched himself a personal-best 23-feet, 1-inch. The jump held up for first, and Birdsong said for the first time in a while he fulfilled his full potential.
"I love it," Birdsong said, flashing a big smile. "I don't know what it was today, but I knew I just had to go out there and pull out a big one. I knew the other guys were going to jump around 22 feet, so I just said I would go 23."
Birdsong wasn't the city's lone winner on the first day of the two-day meet -- Free State senior Sam Frisbie snagged her second straight state title in the high jump.
"It's definitely sweet," said Frisbie, whose 5-6 jump beat the second-place finisher by four inches.
At last weekend's regional competition in Topeka, Frisbie hopped 5-7, which was the best jump in the state this season. As she jokingly admitted, her late-season heroics have worked out nicely.
"I was waiting to get a little more pub," she quipped. "Seriously, I didn't try to think about last year too much. I didn't want to get cocky, so I just tried to stay focused on all the little things that would help me get back to this point."
With the help of those top individual performances, each city school has started solidly. Through four events, the Free State girls sat in first place with 26 points, and Lawrence High's boys were in second place through five events with 15 points.
"Our team came out and either did what we expected them to or exceeded our expectations," FSHS coach Steve Heffernan said. "If our girls come back tomorrow and have another strong day, we might have a shot to bring home a team medal."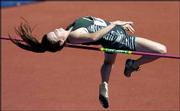 In addition to Frisbie's hardware, senior throwers Kristin Baker and Samantha Houston added points to the Firebirds' tally.
Houston's personal-record 121-foot toss in the discus helped her place third, while Baker, who earlier in the day took third in the shot put, followed in fourth after a throw of 120-06.
"It was pretty exciting to finish like that," Houston said. "A little sad knowing that it was our last state meet. But pretty fitting, because we really do spend a lot of time with each other and are kind of a support system for one another."
LHS's Chelsey Ornburn rebuilt her confidence after an early week wipeout during pole-vaulting practice.
But by the time the Lions' junior rediscovered herself, not only had she set a personal record, but finished second in her specialty after a vault of 10-06.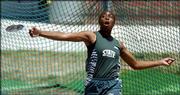 "The story about her that nobody knows is that she fell on the mat Monday and busted her face pretty bad," Lawrence High coach Jerry Skakal said. "She had two black eyes and a bloody nose, and was scared to get back up there most of the week.
"Even today she missed on her first jump, but then she got her courage back and left with her best-ever jump. I'm really proud of her."
Lawrence High's Amy Magnuson made a case for herself in the 100-meter hurdles. The sophomore posted the top preliminary time of 15.56; the finals will be today at 11:10 a.m.
Two Free State girls also could win state titles today.
Senior Lauren Abney will throw the javelin at 9:45 a.m., and sophomore Alysha Valencia will run in the 1,600- and 3,200-meter races. The Firebird boys' premier event, the 3,200-meter relay, will be held at 1:05 p.m. Free State will be attempting to win its fourth consecutive title.
Copyright 2018 The Lawrence Journal-World. All rights reserved. This material may not be published, broadcast, rewritten or redistributed. We strive to uphold our values for every story published.