Hallam, Neb. — Their ears popped because of the abrupt change in air pressure. Then they heard the cracking of trees being torn out of the earth.
"The wife told me, 'Let's get under the stairs,'" Richard Raley said.
Raley and his wife, Karleen, huddled beneath the basement steps Saturday as a tornado ripped away their house and much of the rest of the small village of Hallam.
In all, more than a dozen tornadoes swept across southern Nebraska, killing at least one person and prompting Gov. Mike Johanns to declare a state of emergency.
The tornadoes were part of three days of severe weather that knocked out power to hundreds of thousands of people from Nebraska to Michigan to West Virginia. Most had power restored Sunday.
Severe thunderstorms slammed southern Michigan for a third day Sunday, triggering at least two late-afternoon tornadoes near the towns of Montrose and Williamston. There were no immediate reports of injuries or property damage.
Flood waters also swamped Lower Michigan, where about 85,000 customers remained without electricity Sunday.
In Nebraska, Johanns confirmed the death of a 73-year-old Hallam woman, identified as Elaine Focken. The woman died after being struck by flying debris while trying to reach her basement, according to Johanns' spokeswoman, Terri Teuber.
The governor was taken by military helicopter Sunday to tour the town of 276 people, where every home was damaged or destroyed, vehicles were flipped and splintered trees and downed power lines lay in the streets.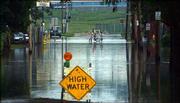 "I've been in public office a lot of years, but I've never seen anything like this," Johanns said.
In Iowa, meanwhile, Gov. Tom Vilsack sent a letter asking President Bush to declare 16 counties federal disaster areas.
Seventeen tornadoes hit the state Saturday -- after a Friday tornado destroyed most of the tiny town of Bradgate -- and flooding and other damage from the storms were widespread. One death was confirmed Sunday in Buchanan County, where a vehicle was washed off a bridge overnight.
Copyright 2018 The Associated Press. All rights reserved. This material may not be published, broadcast, rewritten or redistributed. We strive to uphold our values for every story published.