AUBURN HILLS, MICH. — When Bruce Graham's cat got sick, he was determined to do whatever it took to cure him.
Graham, 47, drove more than 900 miles from Wichita, Kan., to Michigan Veterinary Specialists in Auburn Hills so that Seemore, his 8-year-old, cream-colored Siamese could have a kidney transplant.
The surgery will cost between $8,000 and $12,000, the Detroit Free Press reported.
Seemore is Graham's favorite among 41 cats.
Graham owns a tree-trimming business and had been saving for a new chipper and truck. But when he found out last year that his favorite cat had polycystic kidney disease and could die within two years, the decision on how to spend the money was easy.
"I love this cat," Graham said. "The chipper and truck I have now won't fall apart, and they are just things. This is about life. You don't take a cat out to the country and put a bullet to his head, you care for them. And I consider Seemore my kitty from the Lord."
Already, Graham has spent $8,000 testing his other cats to find Seemore's donor. He found the donor in Inky, a 3-year-old gray Siamese.
He's also installing airtight doors in the upper floor of his home to protect Seemore from the other cats because he's going to have to take anti-rejection drugs for the rest of his life.
"Not an awful lot choose to do transplants because they're not well known and it's a huge commitment," said Dr. Daniel Degner, the veterinarian who led the team that performed the surgeries. "People who choose transplants are very committed owners with very sacrificial personalities."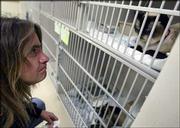 Graham met Seemore seven years ago in Wichita while he was trimming trees. The stray ambled up to Graham and he instantly fell in love.
The surgery went well on Friday. If Seemore does not reject his new kidney, he will have an 85 percent survival rate in the first year, Degner said. After surgery, Seemore will take medication twice a day for the rest of his life.
Copyright 2018 The Associated Press. All rights reserved. This material may not be published, broadcast, rewritten or redistributed. We strive to uphold our values for every story published.