Like a lot of interns, Justin Utt, a Pratt senior at Kansas City Kan. Community College, gets most of the grunt work. Today, he is sweeping off the sidewalks around the building, answering phones and feeding the fish.
"You know it's very important that the fish don't die," Utt says, grinning.
However, Utt's internship at Warren-McElwain Mortuary is not what most people would consider typical.
Utt is studying to become a funeral director -- a serious commitment for someone who recently turned 22.
As part of his curriculum in the mortuary science program, Utt is working at Warren-McElwain to gain on-the-job experience in embalming, as well as with services and funerals.
The most typical question Utt gets is "Why?" Why would anyone choose this as a profession?
Utt asked himself that a lot before coming to Kansas City for college.
Upon reflection, he realized the job fit.
"I was doing something that I was good at," Utt says, and he saw no reason to study for a different career after finding something he had a talent for.
Nothing creepy
Utt got his start in the business in Pratt, where his family went to church with a funeral director. He offered Utt a job doing odds-and-ends tasks around the funeral home. Wanting a change from McDonald's, Utt agreed.
"I never really thought it was creepy or scary or weird," he says. "I thought it was just a different kind of business."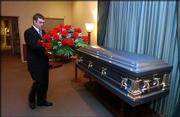 That didn't stop his friends from wondering what he was thinking.
"My friends thought I was crazy," Utt says. "They would make jokes like 'Going to hang out with the dead people?'"
At first, Utt had no interest in knowing what was going on behind the funeral home's closed doors. Eventually, that changed.
"When I worked at Pratt I became accustomed to walking into the prep room when they were (embalming)," Utt says. "I was curious. I wanted to know what happened. So I would go back there every chance I could to ask questions and see how things worked. I sat through a couple of embalmings there just to learn and understand what these guys do."
Utt attributes his healthy curiosity to the fact he was never bothered by the procedures.
Embalming consists of three steps. First the body is washed and the facial features are positioned. The body is preserved by injecting a chemical solution into the arterial and venous system that simultaneously preserves and disinfects. Lastly, materials and gases are removed hypodermically from the abdominal cavity.
Utt assists with embalming at Warren-McElwain -- always under the watchful eye of a licensed funeral director.
Positive inspiration
Utt's start in the funeral home business was atypical, compared to the way most morticians get started. Many funeral directors are simply continuing the family business or have been touched by an experience with another funeral director.
"I've been in this for 35 years, and I think the biggest reason is that they've had a positive experience with a funeral director along the way," says Larry McElwain, co-owner of Warren-McElwain mortuary. "I've had a number of employees that have had an experience with the death of a child or parent within a pretty short time period of when they went to work for us. So I think it's a situation where they've had an exposure to the business and felt like it was something they wanted to do.
"They see what it takes and they see the value of it. They feel the value of it and they want to be able to provide that for somebody else."
McElwain entered the mortuary business much like Utt.
"I started here in the spring semester of 1968," McElwain says. "I did this very job that (the interns) are doing -- answering the door and the phone every other night and every other weekend."
Having students on call nights and weekends originated because Warren Mortuary also ran the ambulances in town. When the ambulance business closed in 1965, the need to have someone on call 24 hours a day remained -- and so did the student quarters.
"I lived out behind the old Warren Mortuary building," McElwain recalls. "It was a tin shed, basically, that was air-conditioned and heated -- cold in the winter and hot in the summer."
Long hours
Now students live rent-free in a basement apartment, complete with a kitchenette, at the mortuary.
"It's still pretty much the same structure, but they are exposed to so much more than I was," McElwain says. "Just the sheer numbers."
When McElwain was working at what was then Warren Mortuary, the business handled 50 to 60 funerals a year. Now interns see more than 300 funerals annually.
McElwain says the hours can be hard on students.
Utt works every other night and every other weekend. His shift starts at 4:45 p.m. and ends at 8 a.m. Although Utt isn't expected to stay awake the entire shift, he's on call for the duration.
It's been a challenge getting used to being woken up overnight by the phone. The most common late-night calls come from hospitals beckoning the funeral home to remove a body.
To orientate himself and clear his grogginess, Utt makes sure to turn on the light, sit up and plant his feet firmly on the floor before answering. Then he heads out to pick up the body.
The unusual hours are hard on a college student's social life.
"It's not the funnest thing being stuck here all weekend, especially when it's slow," Utt says. "But you know you have next weekend off and just plan to have a good time then."
Not for everyone
As if the pressures of the job weren't enough, morticians also have to cope with being surrounded by death and sadness. It's easy to see how one could be overwhelmed.
"It's about training your mind to keep things in perspective," McElwain says. "You are not hiring me to grieve for you. You are hiring me to help you while you grieve."
Utt admits not everyone could do his job, which also includes assisting with funeral services.
"People are just wired different. This isn't a job for everybody, it's really not," Utt says. "It does take a special kind of person to do this -- to be able to deal with families while they are grieving and upset and handle yourself well, and to be able to do it all with dignity and compassion."
And every once in a while, Utt has regrets.
"There's doubts just like everything you do in life," he says. "It would have been nice to go to a four-year university."
Still, he's convinced he has what it takes to succeed in the mortuary business and hopes one day to retire from doing the grunt work to being the boss.
Copyright 2018 The Lawrence Journal-World. All rights reserved. This material may not be published, broadcast, rewritten or redistributed. We strive to uphold our values for every story published.