Marian Umscheid has an imagination that can take her anywhere. The 82-year-old Lawrence resident dreams of running on a sandy beach barefoot -- something that is nearly impossible because of her bad knees.
"In my mind I do those things," Umscheid said. "It's not the real thing, but you can get by."
Umscheid's imagination has led her to a hobby that has touched the lives of those around her.
Every month, Umscheid's poems are featured in "60 and Better," the newsletter of Douglas County Senior Services. Janet Ikenberry, editor of "60 and Better," first took notice of Umscheid when Umscheid was part of a writing group at Senior Services. The group eventually disbanded, but Umscheid gave Ikenberry permission to use her poems.
For nearly a year now, Ikenberry has used Umscheid's poems in the publication.
"I just got a letter from a lady on Sunday saying that she enjoyed Marian's poem, and she sent me one of her own," Ikenberry said. "I think people just enjoy poetry in general. It's something a little different."
Umscheid's poems are also published in a Topeka Capital-Journal insert, Kansas Plus.
Umscheid's life has provided inspiration for many of her poems. She was a child of the Great Depression and remembers everything from the first brand of soda to the earliest airplanes.
"I saw the beginning of a lot of things you guys take for granted," Umscheid said.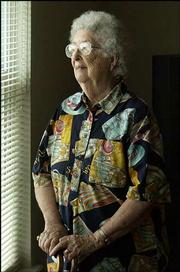 As a young woman, Umscheid worked for the Air Force at Fort Riley.
When she was 23, she married Arthur Umscheid and became a stay-at-home mom to her six children.
"One advantage of those times is I could do that, stay at home with them," Umscheid said.
After her children were older, she worked at the Western Auto store her husband owned in Wamego. She also had her own toy store around the holidays.
She and Arthur, moved to Lawrence from Manhattan in 1989. Two years later, Arthur died.
"All widows say their husbands were wonderful," Umscheid said. "The fact is, mine really was."
It was about this time Umscheid started writing a lot of poems. To cope with her grief, Umscheid wrote a book of poetry about her husband.
I was walking down a street inAutumnThe sun filtered downThrough golden leavesSuch a relaxed and peaceful town.People walked leisurelyOn sidewalks carpeted with leavesLaconic squirrels gathered nutsAs they scampered among thetrees.No one was in a hurryNo face with furrowed browEveryone was smiling, strollingAs if to hurry was not allowed.Was this scene a realityOr a remembered dream?Love will bring it back againAs we wait by a leaf-strewn stream.-- Marian Umscheid
"I zeroed in on poetry because I had nothing else," Umscheid said.
A few years ago, Umscheid's pastor at St. John the Evangelist Catholic Church asked if he could use the poems for grief counseling.
Umscheid estimates she's written more than 1,000 poems. When she has 40 poems written, she has them bound into a book.
One of her favorites is about the town of Overbrook in the autumn months titled "Autumn Idyll."
"Even when I read my own poems, I'm able to get those same feelings again," she said.
She describes poetry as an art that is hard to grasp.
"A poetry writer is a little more sensitive, maybe too sensitive to what's going on in the world around them," Umscheid said.
Even with her many experiences and success, she remains humble.
"So that's my life," Umscheid said. "I'm all of one little speck on the planet."
Copyright 2018 The Lawrence Journal-World. All rights reserved. This material may not be published, broadcast, rewritten or redistributed. We strive to uphold our values for every story published.