Yen Vo remembers the first time she encountered, as she says it, "discrimination and humiliation."
It was her first year of junior high in Vietnam. The children at her elementary school hadn't cared that she walked with a limp, but the older kids constantly ridiculed her.
"I just said to them: 'You make fun of me? I'll be the best student,'" she recalled.
She made good on the promise.
Today, Vo, 38, graduates from Kansas University with a master's degree in human development and family life, and she's planning to return to her home country to help lead the charge for disability rights.
"We still have a lot of work to do," she said.
Vo -- whose first name is pronounced "Ing" -- contracted polio in 1968 at age 2, shortly after she started walking. Her family thought she wouldn't walk again.
In the United States, vaccinations had all but eradicated new cases of polio by the mid-1960s. But the shots weren't as readily available in other parts of the world, and shipments to Vietnam were sporadic because of the war.
While Vo eventually regained her mobility, she walked with a limp.
"I abused my legs a lot," she said. "I didn't know. I was taught if you use them, they'll get stronger."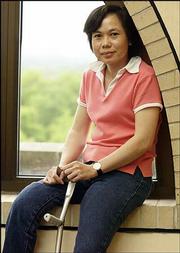 Instead, she permanently damaged her legs and now walks with a crutch.
Roadblocks
Vo again faced discrimination when she applied for college, wanting to become a teacher. Fewer than 1 percent of Vietnamese people with disabilities attend college, and the government won't allow them to become teachers.
After a physical examination, her college -- National Economics University in Ho Chi Minh City -- said it could accept her to study but couldn't recommend her for a teaching job afterward.
That was in the mid-1980s, more than 10 years before Vietnam approved its rough equivalent of the Americans with Disabilities Act. Even today, the law doesn't provide implementation instructions or punishments for violators.
After graduating in 1990, she thought she had finally overcome her disability.
She was accepted for a position in a company shortly after graduation. But on her first day of work, a manager saw her walking with a crutch and realized she was disabled. She was told there was a misunderstanding, and that she hadn't actually been hired.
She began to realize why most Vietnamese with disabilities stay at home under the support of their families and are not in the work force.
"It's very hard for them to find a job," she said.
'Normal rights'
Until the last decade, having the disabled advocate for their own rights was taboo in Vietnamese culture.
Vo's experiences helped convince her to change that.
In 1999, she and a group of friends took photos of people with disabilities in their daily lives and had an exhibition called "Focusing on Equal Opportunities" in Ho Chi Minh City.
The next year, she helped found the Disabled Youth Assn., the first and only organization in Vietnam comprised of people with disabilities advocating for their rights.
She received a Ford Foundation international fellowship in 2001 and picked KU to complete her master's degree. Online, she had read about KU's Schiefelbusch Institute of Life Span Studies, and specifically about the research of Glen White, an associate professor of human development and family life.
No walk down the hill
Her research at KU focused on training students in ways to effectively lobby for better accommodations at KU, Emporia State University and Washburn University. She's hoping the results can be marketed for training at other universities, and that she can adapt the research for students and workers in Vietnam.
After graduation, she'll help lead Vietnam Assistance for the Handicapped, a U.S.-based aid agency in her home country.
"We want to have normal rights," Vo said. "We want to have a voice."
White said he was convinced Vo would have a lasting impact on Vietnamese policy.
"Yen is very tenacious," he said. "She works on something until she masters it. Not only does she have good leadership skills, but she knows enough about research to get data to back up what she wants."
Vo won't walk down Campanile Hill for graduation today. She'll ride in a wheelchair.
That doesn't bother her, though. It's her right.
"I work with my mind," she said, "not my legs."
Copyright 2018 The Lawrence Journal-World. All rights reserved. This material may not be published, broadcast, rewritten or redistributed. We strive to uphold our values for every story published.