The streets in front of Henry T's Bar & Grill have been ripped up for most of the past year. And that's been bad for business.
"People are afraid to go anywhere near this intersection because of the traffic delays ... and they've been doing that since Sept. 1," restaurant owner Sean Garrity said. "When they're not coming by your restaurant, it's hard to get them in the door."
Renovations of the intersection at Sixth Street and Kasold Drive were supposed to be done by the end of 2003. Now it's nearly June and the project -- a $1.026 million effort overseen by the state and partially funded by the federal government -- remains unfinished.
The work has dragged on for too long, Garrity said.
"This has been an absolutely horrible deal for us," he said.
Such complaints are common when street projects get under way in Lawrence, Mayor Mike Rundle said, because renovations usually require lane closures, which cause traffic slowdowns and other problems.
But the city may soon be looking at a way to accelerate some of the slower-moving projects.
'Working' vs. real days
Last summer, work at 27th and Iowa streets prompted grumbling from drivers about the length of time it took to complete the project. This year, Rundle said, installation of a roundabout at 19th Street and Barker Avenue was taking longer than drivers through that neighborhood would like.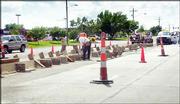 "It's not a daily thing," Rundle said of complaints. "But it comes up whenever we start bidding new projects."
Late spring is when the bulk of that bidding starts. This year, the city has $2.6 million to spend on as many as 50 street projects.
But while the city has contracts for how long the work should take, they leave open to interpretation when the work actually will be done.
Ask City Hall for records on the projected beginning and end dates for street projects, and you'll find no such records exist. Contracts instead call for crews to complete the job within a certain number of "working days." The number allowed varies from project to project.
And working days are probably most easily defined by what they aren't; the count doesn't include weekends, holidays, bad weather days and any other day during which conditions prevent work on the project. Employees at City Hall determine which days count as working days.
Here's the status of major street renovation projects in Lawrence, as of Friday:¢ 19th Street and Barker Avenue roundabout and water line improvements: 80 working days on the contract, closed intersection for utility relocations Jan. 15, began work March 15, 41 working days remaining.¢ Sixth Street and Kasold Drive geometric and traffic signal improvements (KDOT project): 90 working days on the contract, began work Aug. 11, 2003, 11 working days remaining.¢ Sixth Street and Comet Drive geometric improvement project: Coordinate improvements with Sixth and Kasold project. 60 working days on the contract, began work Nov. 10, 35 working days remaining.¢ 19th Street and Learnard Avenue stormwater improvement project. Coordinate with 19th Street and Barker Avenue street and water line improvement projects: 90 working days on the contract, began work Feb. 20, 39 working days remaining.¢ 13th and Oregon streets stormwater improvements: 200 working days on the contract, began work March 20, 167 working days remaining.Source: City of Lawrence
'Lots of reasons'
"There's lots of reasons that don't necessarily become public why contracts are delayed," said Steve Glass, president of LRM Industries, which handles many street projects in Lawrence. "We often lose not just the day it rains, but a day or two afterwards until the soil's dry enough."
Working days also don't include delays caused when plans are inaccurate or workers discover underground utility lines that have to be moved to make way for the project.
Glass said both those conditions caused delays in construction at Sixth and Kasold, a project overseen by the state. Once crews overcame those obstacles, he said, they needed to wait for a series of warm days to put in asphalt and finish the project.
So even though the project has taken much longer than expected, Glass said, street crews still haven't exceeded the number of working days called for in the contract with the state. The latest estimate is that the work will be done in mid-June.
Penalties not common
"In this case, we're going to be right on target, in terms of working days," Glass said, but added: "I certainly understand the frustration of the public."
Public Works Director Chuck Soules said such scenarios were common. A contractor can be penalized if he or she exceeds the number of working days called for in the contract, but it doesn't happen often.
"We've had a couple" of projects exceed working days, Soules said of his two years at City Hall. "And we've charged damages."
Nonetheless, Rundle has asked city staffers to look at revamping the standard street renovation contract to set stricter deadlines for projects, with bonuses for early completion and penalties for being late.
"There are a number of projects over the last few years that seemed to take a long time to complete," Rundle said in an e-mail to Soules. "I have heard reports that there are some current projects which see a fair number of good weather days go by without any noticeable work on site."
Lawrence plan
City staffers will meet next week to compile information on the proposal, Assistant City Manager Dave Corliss said Friday, but there's not a timeline for bringing that information to the commission.
Glass said a penalty/bonus contract was used in other cities, mainly on large, multimillion dollar contracts.
"Conceptually, I think it's both a good idea and an idea that's been used in some places," Glass said. "I don't know that we've ever done a project with those conditions attached to it."
Because the Sixth and Kasold project was bid by the state, changes to city street contracts wouldn't have helped Garrity's business. But he favors Rundle's proposal.
"I think that's a fabulous idea," Garrity said.
Rundle said the city needed to do a better job of making sure street renovations were completed quickly.
"Projects like 27th and Iowa go on and on and on and on," he said. "I think we have a duty to do good public relations, and get any project we do done as quickly as possible."
Copyright 2018 The Lawrence Journal-World. All rights reserved. This material may not be published, broadcast, rewritten or redistributed. We strive to uphold our values for every story published.