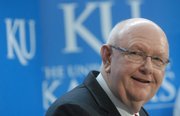 KU's 16th chancellor, Robert Hemenway, announced Dec. 8, 2008, that he would retire at the end of the current academic year. He's been chancellor for 14 years.
For the ninth time in nine years, I stand before you to give the KU commencement speech. It is the Chancellor's privilege, but also his responsibility, and I know you count on me to do my duty.
I have to confess to you that chancellors as a group identify the commencement speech as one of the greatest hazards of the office. It is the occupational equivalent of deep-sea divers fearing The Bends. I agonize over the speech every year. The only thing I don't have to worry about is what to wear. This is my regular outfit for a casual Sunday afternoon in May.
Still, the pressing need to find each year something new and original to say to the departing graduates has transformed many chancellors from solemn dignity to panic-stricken stage fright.
Clarke Wescoe, KU's 12th Chancellor (1960-69), used to avoid the panic by breaking into song, and singing the commencement speech to the melodies of old show tunes, like: ³I Could Have Danced All Night." "I could have talked all night, I could have talked all night No, no you can hear the rest when I audition for American Idol.
One chancellor I know (a real contrarian) has reacted to the annual pressure for something new by giving the identical, same speech for the last 14 years. His position is, "It's a good speech, and therefore worth repeating. Besides, it's a new group of students every year. They haven't heard it before, and they shouldn't be deprived."
I once asked him about those who were not students and were forced to listen to the same speech every year for 14 years. People like faculty, for example. "You know," he said, "that has never come up. I'm not sure anyone noticed."
I have also heard a rumor, which may, or may not, be true, that one chancellor had a total break down in the face of the challenge to say something fresh and original. He was relaxed as the students marched in, but when introduced to speak, the panic took hold. He fled the stage, sputtering his resentment, "How can we turn the world over to these people? They pirate music, download God knows what, waste hours with video games, and are obsessed with sex. How can they pay their dues when they can't even pay their parking tickets?"
Such panic arises when the chancellor realizes that his fears are well founded, that he has absolutely nothing to say. After thinking for weeks, he still has nothing in his head but some trite plea for the graduates to avoid making the same mistakes that his generation did. Deep down, he knows this is not a problem. There are plenty of mistakes for you to find on your own.
KU is a tradition bound place, and the chancellor is captive of, perhaps imprisoned by, the tradition that only the chancellor can give the commencement speech. I suspect that this tradition began during one of those hard years when the state was cutting budgets and economizing by eliminating out of state travel. I am sure previous KU chancellors must have fantasized about hiring an outsider, a novelist or statesman, who could be bribed to speak with an honorary degree. Many universities do this, and those chancellors have nothing to worry about beyond wondering what the speaker will say about the administration.
Rice University, in 1998, invited Kurt Vonnegut to receive a degree and give the speech. He gave a witty address, which included an admonition to students to keep an eye on how the chancellor spent the money. He also had an anthropological interpretation of what was taking place.
"What this really is," Vonnegut said, "is a long delayed puberty ceremony. You are, at last, official, full-grown men and women - what you were biologically by the age of fifteen or so. I am as sorry as I can be that it took so long and cost so much for you to at last receive licenses as grown-ups."
Your problem is that KU holds to tradition and frugality. Rather than importing wit and wisdom, KU expects the Chancellor's Office to supply these commodities, even though the storehouse in Strong Hall may be pretty depleted.
I usually start seeking Commencement ideas about mid-April. I rack my brain, watch a lot of John Stewart and the Daily Show, and keep asking students if they have suggestions for the speech. None of this seemed to work, for me, this year so I did what you would do. I surfed the Net. I discovered that right next to term paper services are commencement speech salesmen.
"Looking for exactly the right words to say for your commencement speech? Look no further. SpeechWriterCC provides the perfect personal touch for this and all your other speeches."
Did you know that for $39.50 you can buy a Fire Fighters Graduation speech which congratulates the cadets, speaks of the challenges of their career and ends on a good luck note? For an extra five dollars you can get three "light hearted and sincere poems that add a motivational toast to the fire fighting cadets."
A possibility, but with all the budget cuts, I figured I couldn't get the $39.50 past the auditors.
But, I shouldn't have worried. I started focusing on the walk down the hill, and, as in all previous eight years, the ceremony itself conquered the panic and brought inspiration. The fundamental truth of the KU Commencement overpowers all: THE WALK IS THE CEREMONY. The speech is secondary, tertiary, to the walk itself.
We don't import wit and wisdom because there is a plentiful supply among our graduates, even if the Chancellor comes up short. We don't need to talk about your future triumphs because your triumph is in the present, in becoming officially a Jayhawk.
The license you receive today is to walk down the hill and out into the world with a unique status¹a representative of a relatively exclusive club that loves basketball but loves learning more, and understands when we say, "No one walks the hill alone."
Because the walk is the ceremony, the Chancellor discovers his real role. Even if you don't remember the speech, you will never forget the ceremony.
So let me congratulate the Class of 2004, citing particular students as a way to represent you all. If you will permit, I'll begin with Zack Hemenway, the first Hemenway to get an undergraduate degree at KU. Zack represents all the faculty and staff offspring who choose to attend KU. They in effect say, I like this university because I know how hard my parents work to make it successful.
Zack, I know, that it has not been easy to be the Chancellor's son. All those lame jokes in the convocation speeches, all those questions: "Who is your father?" You've defended your dad often, even when he was wrong, or maybe you didn't, and I just never found out. Whatever the case, your mom and I love you. I think I am doing this right. Tap-Point.
John Grant, representative of all the out-of-staters in the Class of 2004. John, I know how proud you are of your perfect attendance in sand volleyball, but your parents are proud of that degree.
Gena Milburn, representing all those who jog on Jayhawk Boulevard in the evening, thank you for stopping me during my evening walk, and saying all of those nice things about your years at KU. Clearly, you have captured the Jayhawk spirit.
Andy Knopp, representing all students as student body president, as you head for law school at the KU on the Charles, remember that Harvard is just a flatter version of Mt. Oread.
Fredericka James, from Dominica in the Caribbean, representing all international students and all graduate students. Good luck in creating the first counseling program at Dominica State College.
Andy Marso, representing all who have had to overcome serious illnesses at KU, you are in everyone's thoughts and prayers. We're glad that your brother Dan can walk for you today, but get well soon so I can put your diploma in your hands.
Mark Dupree, representing all the future politicians in the class, good luck in law school, and let me know when you start raising money for that first legislative race.
Richie Friesner, representing all those students who clogged your arteries at The Wheel. Richie, I love the fries, too. I'll see you there on Friday.
Finally, let me be serious for a moment. The panic of the Commencement speech occurs because Chancellors desperately want to say something meaningful. We know the importance of the occasion.
If any chancellor is to be honest with graduates on May 23, 2004, he can't avoid the 500-pound gorilla in the corner. Somewhere in the back of everyone's mind is the war in Iraq and the war on terrorism. Every joyous occasion like Commencement, every day-to-day activity is affected by the violence that lurks in the shadows, frustrates us, and scares us.
For the Class of 2004, almost your entire college career has been witness to violence. Your sophomore year you saw the World Trade Center come down and you saw the face of evil in terrorist acts. Your junior year was the war in Afghanistan. Your senior year was the War in Iraq. You have seen nightly, on the television, the bravery and courage of American troops, and recently you have seen ethical lapses from people under great pressure.
The challenge of these days is to find a way to keep our sensibilities from being blunted, our compassion from being diminished, and our capacity for love intact.
If we are not on the battlefield, we know we could be, even as civilians. Is it safe to go to the Olympics? To travel in Spain? To visit the Middle East?
What I would leave you with today is the necessity to make sense of this violence, knowing that you will do so in your many various ways. There is no political correctness here. We all struggle to make sense of a world very different from the world we imagined four years ago.
We must decide who we are personally, and what we believe personally, because we know that there will be those who define us not by whom we are, but by what we are - Americans - and by what our country stands for.
I hope that your KU education has taught you to avoid the potential for arrogance in our super power, and to hold fast to the hope that the world can become a better, more peaceful place, no matter how remote that seems at present.
Tonight, after the parties are over and the hugs have been given, after all those who love you have shown how overpowering that love is, say a little prayer for a world that desperately needs to find a way to be at peace - meaning peace with honor and peace that has a chance to survive.
Class of 2004, I wish I had the eloquence to express our hopes for your future. I do believe that this walk down the hill represents the extraordinary life you have ahead of you, which is why your family and friends are so proud of you today.
I would like to end with a motivational toast. Congratulations, future Fire Fighters! I mean, Congratulations, Jayhawks! Rock Chalk Jayhawks all.
Copyright 2018 The Lawrence Journal-World. All rights reserved. This material may not be published, broadcast, rewritten or redistributed. We strive to uphold our values for every story published.