Manhattan — File this one away in the you-have-got-to-be-kidding-me department.
The Kansas University baseball team's 19-6 victory over Kansas State on Saturday might have shattered the chaos meter. Well, for a half inning at Tointon Stadium, anyway.
At 8:28 p.m., KU catcher Sean Richardson stepped up to the plate and started a three-out frame that rivaled a circus in entertainment value.
With KU down 5-2 in the top of the sixth, Richardson was the first of seven straight KU batters to reach base. After Ryan Baty reached first on a fielder's choice that forced out Ritchie Price, Travis Metcalf sent a screamer down the left-field line -- maybe fair, maybe foul -- that was called fair and cleared the bases.
From there, it gets fuzzy. After Baty scored to put KU up 9-5, K-State catcher Josh Heinrich took issue with something said by someone in KU's camp. In an instant, the players flocked like a swarm of bees toward home plate, pushing and shoving was frequent, and K-State assistant coach Sean McCann was ejected after blowing a gasket and charging at what appeared to be anyone not on his team.
"It was just frustration," Baty said. "Nothing personal."
Order finally was restored after everyone seemingly was pushed, tugged or screamed at at least once.
Then it REALLY got crazy.
The next eight batters reached base for the Jayhawks -- remember, this is still the same inning -- highlighted by three-run home runs by A.J. Van Slyke and Baty to dead center field.
After Baty's homer gave KU its 16th run of the inning, and an 18-5 lead, Metcalf grounded out to third base. That was the second out.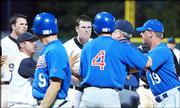 Richardson finally ended the frame -- on his third plate appearance in the sixth -- by grounding out to third base. The final out was recorded at 9:15 p.m., 47 minutes after Richardson's first plate appearance.
For what it's worth, the following half-inning lasted three minutes.
"Never in my baseball career," Baty said, "little league, collegiate, never have I seen an game like that where an inning changed the whole scope of the game. It was incredible."
KU's 16-run sixth inning tied a team record for runs in a single frame, and the blowout victory assured the Jayhawks wouldn't be cellar-dwellers in the Big 12 Conference race this year. At 30-31-1 overall and 6-19 in Big 12 play, KU will finish in ninth place in front of the Wildcats, who are 4-22 in conference play heading into today's season finale for both teams.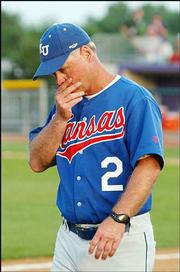 Doesn't matter, says KU coach Ritch Price.
"I'm sure (KSU) coach (Brad) Hill feels the same way," Price said. "We're both trying to rebuild programs to become respectable in the Big 12. Finishing ninth still isn't where either one of us want to be."
Baty's home run in the sixth extended his hitting streak to 20 games, tying a school record set last year by teammate Matt Tribble. It was the third homer of the game for KU, after Van Slyke's three-run blast earlier in the inning and Travis Dunlap's solo shot in the third.
In all, Kansas laced 18 hits in the game -- 10 of them in that wild sixth inning. Kansas State starter Jim Ripley had mowed down the Jayhawks prior to that frame, striking out eight with a deadly fastball-changeup combination. He suffered the loss, regardless, falling to 4-7.
Freshman Sean Land (4-2) earned the victory in relief.
Kansas and K-State will conclude the three-game series at 2 p.m. today Tointon Stadium in Manhattan. Ryan Knippschild will start on the mound for KU.
Copyright 2018 The Lawrence Journal-World. All rights reserved. This material may not be published, broadcast, rewritten or redistributed. We strive to uphold our values for every story published.