Rafah, Gaza Strip — A 3-year-old Palestinian girl was shot dead Saturday as a senior U.N. official toured a battle-scarred refugee camp where Israeli troops continue the hunt for weapons-smuggling tunnels and militants.
The United Nations condemned the "completely unacceptable" destruction of houses, which has left 1,650 Palestinians homeless in the last 10 days.
In the West Bank, four people were wounded by a Palestinian suicide bomber near an Israeli army checkpoint.
On Friday, Israeli troops pulled back from the Brazil and Tel Sultan neighborhoods of Rafah, leaving behind dozens of damaged or destroyed buildings, torn-up roads and flattened cars. The army said it was redeploying forces and that its offensive -- aimed at capturing militants and uncovering tunnels that stretch across the nearby Egyptian border -- would continue.
Peter Hansen, head of the U.N. agency for Palestinian refugees, visited the two areas Saturday.
"The human price has been extremely high for this operation," Hansen said.
He said 1,650 Palestinians had been made homeless over the past 10 days of the operation, including a brief Israeli incursion into Rafah last week. More than 11,000 Rafah residents have been made homeless by Israeli demolitions since 2000.
Municipal officials said at least 43 homes were demolished and dozens more damaged in the camp this week. The army said five houses were destroyed after they were used as cover by militants to attack troops.
"I think that the destruction is probably even worse than I've seen ... and is indeed completely, completely unacceptable," Hansen said.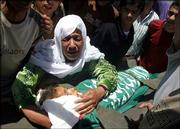 A 3-year-old girl was killed Saturday in the Brazil neighborhood while Hansen's delegation was in the area. Relatives said Rawan Mohammed Abu Zeid was killed by a gunshot to the head as she walked to a shop to buy candy.
"We were playing in the house when she told me she wanted some candy," said her brother Diyab Abu Zeid, 19, crying uncontrollably on the telephone. "The older kids in the neighborhood were going to the store so I let her go with them.
The army said it had no reports of shots being fired in the area.
Copyright 2018 The Associated Press. All rights reserved. This material may not be published, broadcast, rewritten or redistributed. We strive to uphold our values for every story published.