New Delhi — Incoming Prime Minister Manmohan Singh promised Thursday he will reshape economic reforms to benefit India's poor, protect workers in state-run companies and boost farm output.
"I have always been saying that we need reforms," Singh said. "We will increase reforms, but it will be reforms with a human face, reforms that benefit the common man of our country."
Singh said his coalition government's goal was to be friendly to investors while addressing some of India's most chronic problems, such as poorly funded hospitals and schools, and the lack of proper housing for millions living in poverty.
"It's a very difficult task," said Singh, an Oxford-educated economist. "But we in India have, since time immemorial, proved that we don't get unnerved by difficulties."
Although India's economy was growing at an annual rate of about 8 percent in recent months, the central bank predicts growth will slow over the next year. That won't make it easier for Singh to tackle several economic problems, such as large -- and growing -- budget and trade deficits.
The Congress Party's Italian-born president, Sonia Gandhi, refused to take the prime minister's job under withering attacks from Hindu nationalists over her foreign roots. But she is expected to have a strong hand in Singh's government.
Singh also vowed to make progress in peace talks with Pakistan that are due to begin soon. The central issue, and the most difficult to resolve, is the decades-old dispute over the divided Kashmir region.
"We must find ways and means to resolve all outstanding problems that have been a source of friction, without sacrificing our national security imperatives, to create an environment to move forward," he said.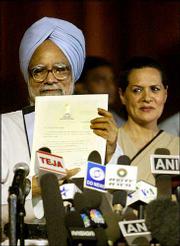 Copyright 2018 The Lawrence Journal-World. All rights reserved. This material may not be published, broadcast, rewritten or redistributed. We strive to uphold our values for every story published.