Philadelphia — Keith Primeau saved the Philadelphia Flyers' season. Simon Gagne gave them at least one more game.
Gagne scored his second goal with 1:42 left in overtime, leading the Flyers to a 5-4 victory over the Tampa Bay Lightning in Game 6 of the Eastern Conference finals Thursday night.
Game 7 is Saturday night in Tampa. The winner will play the Calgary Flames in the Stanley Cup finals, which begin Tuesday.
"I need everybody around me to help. I got that tonight," said Primeau, who scored twice, including the tying goal with 1:49 left in regulation.
The Flyers are seeking their eighth trip to the Cup finals, and first since getting swept by Detroit in 1997. The Lightning, in the playoffs for just the third time in the franchise's 12 seasons, never have reached the Cup finals.
After Lightning goaltender Nikolai Khabibulin made several outstanding saves in the extra period, the Primeau-Gagne-Jeremy Roenick line struck again.
Primeau took a shot that hit Lightning defenseman Pavel Kubina and went to Roenick, whose shot bounced to Gagne at the other side of the net. Gagne snapped a shot that hit Khabibulin and squeaked in.
"The puck went right to my stick and I shot it as hard as I could," Gagne said. "I was excited when I saw that line on the board this morning."
Sami Kapanen also had a goal for Philadelphia, which won its second overtime game of the playoffs.
Ruslan Fedotenko and Vincent Lecavalier each scored twice for the Lightning.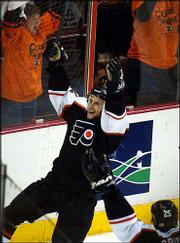 "If we win Game 7, this game has no bearing," Lightning center Tim Taylor said. "We can't get on the plane and mope around."
Fedotenko's first goal against his former teammates tied it at 3 in the second period. He scored on a power play from almost the same spot on a near-identical pass from Dave Andreychuk to give the Lightning a 4-3 lead with 2:27 left in the second.
But Tampa Bay seemed content to sit on the lead in the third period, and Primeau finally made them pay. From the left side of the net, Primeau kicked the puck through Khabibulin's pads, came around the other side and jammed it in to send the game to overtime.
Primeau, the Flyers' captain, has been dominant in the postseason, scoring nine goals in 16 games after getting nine goals in 110 playoff games coming into the year.
Now, the injury-depleted Flyers, playing without defensemen Eric Desjardins and Marcus Ragnarsson and forward Radovan Somik, are one victory away from playing for the Cup.
"This team has a special quality. It won't quit," Hitchcock said.
A raucous, orange-clad crowd went silent when Lecavalier scored a breakaway goal to give Tampa Bay a 1-0 lead just 88 seconds into the game.
But a pretty, backhanded goal by Gagne off a kick-pass from Primeau tied it at 1. Primeau then gave Philadelphia a 2-1 lead with a one-timer off a perfect pass from Vladimir Malakhov.
Lecavalier's second goal tied it at 2 just 45 seconds into the second period. His slap shot sailed past Flyers defenseman Mattias Timander and just under Robert Esche's glove.
"It's disappointing, especially when you are that close," Lecavalier said. "Maybe we should have pushed a little more in the third period."
Copyright 2018 The Associated Press. All rights reserved. This material may not be published, broadcast, rewritten or redistributed. We strive to uphold our values for every story published.