Miami — The Indiana Pacers desperately wanted to avoid a pressure-packed Game 7 against the scrappy Miami Heat.
Ron Artest helped make sure they got their wish.
Artest hit several clutch shots and finished with 27 points, helping the Pacers eliminate the Heat with a 73-70 victory in Game 6 on Tuesday night, snapping Miami's 18-game home winning streak.
The Pacers advanced to the Eastern Conference finals for the first time since 2000 and the sixth time since 1994. Indiana will have three days off before playing Game 1 on Saturday night against the winner of the New Jersey-Detroit series, which concludes Thursday.
"We learned a lot about ourselves tonight," Artest said. "We had to weather a lot of storms. That's one tough arena. This is one of the toughest buildings to play in. Every road game is a test, but this was one of our biggest."
The road victory allowed the Pacers to return home without needing to win a Game 7. Indiana had the NBA's best record in the regular season (61-21) and has won 15 of 16 at Conseco Fieldhouse -- including 13 in a row and all five in the postseason.
But the Pacers wanted nothing to do with one all-or-nothing game against the young and inexperienced Heat.
"We wanted to get this over with," Pacers guard Jamaal Tinsley said. "We definitely didn't want to get to a Game 7."
Anthony Johnson made two free throws to give Indiana a 73-69 lead with 14.7 seconds to play. Lamar Odom then hit a free throw to make it a three-point game.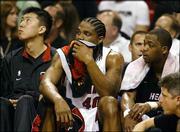 Artest, who had been 10-of-13 from the free-throw line, missed two from the stripe with 9.1 seconds to play.
Rafer Alston, the Heat's best three-point shooter, shot an airball from several feet beyond the arc, and Reggie Miller rebounded just before the final buzzer.
"That was disappointing," said Alston, who was 0-for-6 shooting and missed all four from three-point range. "Those were shots I knocked down all season. It was a bad night to not be able to make a shot."
The Heat had a better chance to even the score with 26 seconds to play. Rookie Dwyane Wade drove for a layup to cut the lead to 71-69 with 47 seconds to play, and a turnover game Miami the ball back with 26.1 seconds remaining.
But Eddie Jones shot an airball from close range, the ball going over the backboard. Wade got the rebound, but the referees ruled he was falling out of bounds as he tried to call a timeout. They awarded the ball to Indiana, and Johnson sank his free throws.
Aside from missed shots, the Heat did everything they needed to do to win. They held O'Neal to seven points on 2-of-10 shooting after the All-Star forward had 88 points in the last three games. The Pacers also shot 32 percent and had 18 turnovers.
Wade finished with 24 points, his seventh postseason game with 20 or more points. David Robinson of San Antonio was the last rookie to have seven 20-point games in the same postseason.
"It was a tough win, although at times it was not pretty," Pacers coach Rick Carlisle said. "Miami is a strong-willed franchise and a strong-willed group of guys. It was clear what we needed to do. We needed to play an unbelievably good game defensively, and we needed to find a way to get the ball to the basket."
Copyright 2018 The Associated Press. All rights reserved. This material may not be published, broadcast, rewritten or redistributed. We strive to uphold our values for every story published.