The six broadcast networks' schedules for the 2004-05 season came into sharper focus Monday, as NBC ordered a total of 12 new series, only five of which will actually arrive for the traditional fall launch. Both ABC and CBS are likely to bring Mel Gibson to prime-time TV, at least as a producer. CBS may also use its new "CSI: New York" to target NBC's "Law and Order."
And the WB Network will bring "reality" super-producer Mark Burnett into the scripted realm with his first sitcom.
As expected, "Joey," Matt LeBlanc's "Friends" spinoff, will lead off Thursdays for NBC, and the new procedural "Medical Investigation" -- starring "Boomtown's" Neal McDonough and "The Practice's" Kelli Williams -- is set for Fridays. The network also confirmed orders for the airport drama "LAX" (which was earlier titled "HUB"), starring Heather Locklear and "L.A. Law's" Blair Underwood, for Mondays, the animated half-hour "Father of the Pride" (Tuesdays) and the cop show "Hawaii" (Wednesdays).
But NBC executives also affirmed their commitment to year-round programming by announcing seven as-yet unscheduled series. The sitcoms are the courtship comedy "Crazy For You," the male-focused "The Men's Room" and "The Office," a transplant of the BBC America critic's favorite. Among backup dramas, two revolve around characters with supernatural powers, "Medium" and "Revelations." There's also a fourth iteration of the stalwart "Law and Order" franchise, plus the boxing reality show, "The Contender," a product of Burnett and Sylvester Stallone, earmarked for Tuesdays.
NBC announced the moves at a Monday presentation for advertisers and media at New York's Radio City Music Hall.
Initially worried about the impact of losing two high-profile shows -- "Friends" and "Frasier" -- NBC this year had a solid season and minted a new hit, "The Apprentice," which will be back in another version in the fall.
"The bottom line is we are so much stronger than we expected to be at this point," said Jeff Zucker, president of the NBC Universal Television Group.
Zucker even promised that ratings will go up next season on Thursday nights, primarily because it will have many more new episodes of "The Apprentice" and more new episodes of "Joey" than "Friends" had last year.
NBC also announced Monday that Dennis Farina will join the cast of "Law & Order"; that the comedy "Scrubs" has been renewed for two seasons; and that Carson Daly has signed up for three more years as host of "Last Call."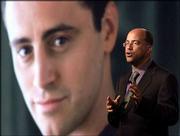 ABC, which reveals its lineup this afternoon, has ordered the family sitcom "Savages," which Gibson loosely based on his own family, plus three one-hours: the tropical adventure "Lost," the quirky suburban soap "Desperate Housewives" and the teenage drama "Life As We Know It," according to agents and rival executives.
The network may also make the rare move of putting a new "reality" series on the fall schedule, "Wife Swap," about two ordinary moms who briefly trade places.
CBS, which presents its schedule to advertisers Wednesday, will try to keep its lineup relatively stable, although executives will likely take on NBC's long-dominant "Law & Order" with the third "CSI." CBS is also expected to order at least two additional new dramas (both Rob Lowe's "Dr. Vegas" and Stanley Tucci's "The Webster Report" are said to be in contention, along with Mel Gibson's baseball drama "Clubhouse") and two new comedies, "Center of the Universe" with John Goodman (possibly for Mondays) and the tentatively titled "The Tony Show" with Jason Alexander (Wednesdays). Goodman is also the voice of one of the lions in NBC's animated series "Father of the Pride."
Among existing series that likely won't return in fall: ABC's "Life With Bonnie," "I'm With Her" and "It's All Relative" and CBS' "Yes, Dear," "The Guardian" and "The District."
At its advertiser presentation this morning, the WB Network is expected to announce an order for "Commando Nanny," the first sitcom for Burnett ("Survivor," "The Apprentice"). The network had earlier picked up two dramas, "Jack & Bobby" and "The Mountain."
Copyright 2018 The Lawrence Journal-World. All rights reserved. This material may not be published, broadcast, rewritten or redistributed. We strive to uphold our values for every story published.