Toronto — Roy Halladay refused to be topped by Pedro Martinez again.
Halladay outpitched Martinez after losing their first two matchups this season, and the Toronto Blue Jays beat the Boston Red Sox, 3-1, Sunday.
"You don't always walk away with wins against teams or pitchers like that, but when you do it's a great feeling," Halladay said.
Carlos Delgado hit a two-run homer for the Blue Jays, who gained a split of the four-game series.
Halladay (4-4) worked seven strong innings, allowing one run and six hits -- all singles -- while striking out six and walking two.
The reigning AL Cy Young Award winner lost to Martinez on April 10 and 20, though he pitched well both times.
"The results weren't there, but we still had close games, we just couldn't pull it out," said Halladay, who looked forward to the third matchup. "It's exciting because you know it's going to be a close game. To be able to win close games like that, as a pitcher I think that's the most satisfying."
Halladay threw a season-high 124 pitches. He said he took a little off his fastball so he could stay strong late in the game.
"When I go out and give a max effort, you just drain the tank so fast," Halladay said. "It just allowed me to go a little deeper in the game and to a higher pitch count and not really feel the same fatigue."
Jason Frasor worked a scoreless eighth, and Terry Adams got three outs for his second save.
Martinez, a three-time Cy Young winner, gave up three runs and six hits in seven innings. He has won just one of his last four starts.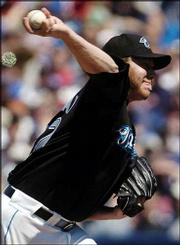 "If I can continue to pitch like this, we're going to win a lot of games," said Martinez, who said he enjoyed facing Halladay.
"I really do. I don't like it easy. If he makes it tough for me, I like it, I enjoy it. I enjoy seeing Halladay out there. I would pay my money to watch him pitch."
Martinez lost in Toronto for the first time in his career, falling to 3-1 in eight starts.
The Red Sox dropped a half-game behind the first-place New York Yankees in the AL East.
Yankees 2, Mariners 1
New York -- Kevin Brown held down Seattle for 72/3 innings, and John Flaherty hit his first homer since August to lead New York over Seattle. The 39-year-old right-hander, acquired from Los Angeles in December, is 5-0 for the first time since 1990, when he pitched for Texas.
Indians 10, Devil Rays 0
Cleveland -- C.C. Sabathia pitched seven sharp innings, and Cleveland completed a three-game sweep. Sabathia (2-1) gave up five hits and struck out six, improving to 5-0 in five career starts against Tampa Bay. Travis Hafner and Ben Broussard each drove in four runs.
Tigers 3, Rangers 1
Detroit -- Jason Johnson pitched five strong innings before leaving with a blister, and three Tigers relievers combined to throw four shutout innings. Omar Infante homered, and Alex Sanchez had three hits for the Tigers, who have won three of four. Johnson (2-5) left after the fifth because of a blister on his pitching hand. He allowed one run on five hits and struck out a season-best seven, one short of his career high.
White Sox 11, Twins 0
Chicago -- Jose Valentin and Joe Crede homered to back Mark Buehrle's solid pitching performance, and the White Sox avoided a three-game sweep. Buehrle (3-1) allowed seven hits and struck out seven in 62/3 shutout innings to improve to 11-4 against the Twins.
Orioles 4, Angels 0
Baltimore -- Sidney Ponson pitched a five-hitter to end a run of four poor starts, and Baltimore snapped a three-game losing streak. Jerry Hairston drove in two runs, and Javy Lopez had three hits for the Orioles, who averted a three-game sweep and avoided falling to .500 for the first time since April 15.
Copyright 2018 The Associated Press. All rights reserved. This material may not be published, broadcast, rewritten or redistributed. We strive to uphold our values for every story published.