It took Kansas University's baseball team until it's second-to-last weekend of the season to win a Big 12 Conference series, but the Jayhawks picked the right time finally to do it.
Despite limited offensive production and two errors at critical moments, Kansas still found a way to finish off Missouri, 4-3, Sunday afternoon at Hoglund Ballpark. KU improved to 4-11 in one-run games and overtook Kansas State for ninth place in the Big 12 standings.
"Our season," junior catcher Sean Richardson said, "we've always been one close call away or one instant away from having a good record in the Big 12 and overall."
KU beat the Tigers, 11-6, Friday night before falling, 2-1, Saturday night. Sunday's win bumped the Jayhawks' record to 28-31-1 overall and 4-19 in league play.
With the series win, the Jayhawks gained some revenge on Missouri for beating them four times in 2003.
"I think we had confidence this whole weekend," said senior pitcher Ryan Knippschild, who allowed just one earned run and seven hits in seven innings on the mound. "Last year we got swept early, and then we lost to them in the Big 12 tournament. We had to get some kind of dignity back from these guys, because losing four games and not getting any wins is embarrassing. We told them that we can play with them."
Kansas took a 1-0 lead in the bottom of the second. Richardson led off with a double into the right-field corner and scored following back-to-back singles by A.J. Van Slyke and Kyle Kilgo.
After his big hit, however, Richardson committed a costly error. With a runner on second and two outs, Knippschild struck out Ryan Rallo, which should have ended the inning. Strike three was in the dirt, though, and Richardson's ensuing throw to first sailed into right field, allowing a run to score.
Kansas broke the 1-all tie in the fourth when MU catcher Cosme Caballero fielded Matt Baty's ground ball and overthrew the Tigers' first baseman. A second error on the play allowed Jared Schweitzer and Van Slyke to score, giving KU a 3-1 lead.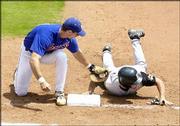 Missouri (30-20-1 overall, 9-14 Big 12) picked up a run in the top of the fifth on Rallo's one-run single to left. The Jayhawks increased their lead to 4-2 in the seventh when senior first baseman Ryan Baty ripped a lead-off double to right and scored on J.C. Sibley's double into the left-field corner.
Knippschild left in the eighth after walking the first batter he faced. Ryotaro Hayakawa entered in relief, but the first batter he faced reached base on a fielding error by Travis Metcalf. Hayakawa walked the next two batters, allowing a run to score. Sophomore pitcher Don Czyz closed out the inning.
MU had two runners on with two outs in the ninth when KU suffered another scare. Shortstop Ritchie Price fielded what should have been a routine grounder up the middle to end the game, but he collided with second baseman Jared Schweitzer and threw the ball into the Missouri dugout. It didn't matter, though, because Czyz struck out the next batter to end the game.
"We're trying to make progress," KU coach Ritch Price said, "and one of the things you preach to your team is it's a five-month season, and it's got peaks and valleys. All good clubs play every weekend, and that's the thing I think we've done well. We've lost a lot of close games, obviously, but we've continued to play each and every game throughout the course of the season even though we've been in last place.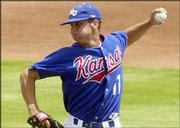 "Kids know that we have young guys on the field and they know that we're getting better each week. We're trying to set a tone not only for this year but for next year and the future."
Kansas closes out its season with a three-game series against in-state rival K-State, beginning at 7 p.m. Friday at Hoglund Ballpark. The final two games will be played in Manhattan.
Copyright 2018 The Lawrence Journal-World. All rights reserved. This material may not be published, broadcast, rewritten or redistributed. We strive to uphold our values for every story published.