Arvelle Trotter had played out the moment in his mind since he was a child.
After all, he and the other high school seniors have heard for years that graduation is one of the biggest -- if not THE biggest -- moment of their lives.
And for the most part, everything was in place on Sunday: "Pomp and Circumstance," caps and gowns, diplomas and speakers.
But there was one detail that Trotter had wrong in his mind.
"I thought I was going to cry, but I didn't," the Free State High School graduate said. "It wasn't as emotional as I thought it would be. It was more of a celebration. Even this time last week, I thought I would cry."
There were plenty of tears and cheers as 766 students at FSHS and Lawrence High School received their diplomas Sunday during separate ceremonies at Kansas University's Memorial Stadium.
FSHS graduated 368 students; LHS graduated 398.
Though the two ceremonies were similar, each had its own trademarks.
FSHS Principal Joe Snyder praised the senior class for helping win the school's first state championship this year, in swimming.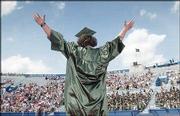 The school also awarded a posthumous diploma to Ryan Walker. Walker was scheduled to graduate with the Class of 2004 but died last year of heart and lung complications. Graduates gave Walker a standing ovation as his family accepted his diploma, cap, gown and tassel.
LHS Principal Steve Nilhas thanked his senior class for helping him learn about the school's customs and traditions during his first year at the school.
"This is my favorite event of the year," Supt. Randy Weseman told both groups of graduates. "It's the culmination of a lot of hard work and a lot of effort by our students."
That culmination led to a range of expectations and emotions by those receiving their diplomas.
For some, the hype didn't live up to the actual event.
"For me, it didn't crack up to be all I thought it would," FSHS grad Heather Miller said. "My parents and family had talked so much about it. It wasn't as spectacular as I thought it would be."
Others, such as LHS grad Colby Deters, found the experience to be more nerve-wracking than they expected.
"I thought it would be a different atmosphere," he said. "I was kind of nervous, going across the stage."
Andrew Algren, who spoke at the FSHS ceremony, agreed.
"This is very, very, very relieving," he said afterward. "This is the most relaxed I've ever felt."
Ashley Isbell, an LHS grad, said she was surprised how emotional she felt during commencement, despite years of talk about high school graduation.
"It's more exciting than I expected, just sitting in the stands," she said. "All of our hard work paid off."
Several special awards -- each selected by a vote of high school seniors -- were announced during Sunday's graduation ceremonies.¢ Chuck Law, history and economics teacher, was voted Free State High School educator of the year.¢ Michael Carriger, English teacher at Lawrence High School, was picked the school's educator of the year.¢ Taylor Parker was selected by his peers for the LHS Outstanding Student Award.
Copyright 2018 The Lawrence Journal-World. All rights reserved. This material may not be published, broadcast, rewritten or redistributed. We strive to uphold our values for every story published.