Americans hear the term "evangelical" a lot these days.
President George W. Bush has shared openly that he identifies himself as a born-again, evangelical Christian and that this faith shapes his view of the world.
Conservative, evangelical Christians are a force to be reckoned with in politics on the national, state and local level. Just witness the recent mobilization of evangelicals across Kansas around the issue of whether to ban gay marriage.
And their presence is being felt in popular culture and entertainment, something that has become abundantly clear to Hollywood with the stunning success of "The Passion of the Christ."
Or consider the phenomenal sales of the "Left Behind" series of apocalyptic, end-times novels written by Christian authors Tim LaHaye and Jerry B. Jenkins.
But who are evangelicals? And what do they believe?
Many people seem to have some vague ideas what it means to be an evangelical, or else they are likely to rely upon stereotypes and misperceptions.
That's something the Rev. Bill Hurlbutt laments.
"People grab the fringe, and they turn them into the norm in their minds. It's guys like Fred Phelps (the Topeka anti-gay pastor) and the people on the fringe of Christianity who do more to give it a bad name, a bad stereotype of who Christians really are," says Hurlbutt, senior pastor of Christ Community Church, 1100 Kasold Drive, a conservative, evangelical congregation.
"The reason why evangelicals share the message (of the Gospels) is not because they think they're better. The reason why they share it is they want to share the love of God."
And that's at the heart of what it means to be an evangelical, according to some of Lawrence's Christian leaders: To share the "good news" of Jesus Christ with everyone.
"That is a distinguishing mark of evangelicalism: the proclamation of that Gospel. We're simply proclaiming it. We're not out to say, 'If you don't believe this way, we don't love you and God doesn't love you,'" says the Rev. Nate Rovenstine, senior pastor of Lawrence Wesleyan Church, 3705 Clinton Parkway.
"We believe this message is so powerful that we want to communicate it to you in a way that you can understand it. Then (we) let you make a choice about it."
Hurlbutt and Rovenstine are among the roughly 10 pastors who belong to the Lawrence Association of Evangelicals, a group of clergy representing the city's evangelical congregations.
The Rev. Leo Barbee, Jr., pastor of Victory Bible Church, 1942 Mass., is the group's outgoing president.
Belief in Bible as God's word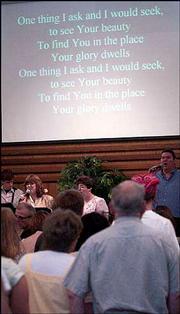 Evangelicals are, of course, individuals, and Christians likely have their own interpretation of what it means to identify with that term.
For Mark Brown, director of Campus Crusade for Christ at Kansas University for the past four years, boils it down to one thing: Jesus.
"For me, that means my life is about sharing the good news and the message of Christ in every way, and giving Christ honor and glory in everything I do," he says.
"It means that even if I do works of service, I do them for the cause and the glory of Christ, not simply for the needs of those around me."
Evangelicalism is a big umbrella, according to Hurlbutt, and there's a lot of diversity underneath it. Yet, evangelicals do agree on several core beliefs.
"There are certain major tenets that we all hold to. We're people who believe in the literal word of God. We believe in the deity of Jesus Christ, that he was God. Evangelicals believe they have a message that needs to be shared, because without Christ, people are doomed. And from that perspective, we are pretty exclusive about our message," he says.
"I think Billy Graham expressed it the best. He said a couple of years ago that while he respects everyone's right to believe what they choose to believe, and while he respects other religions, he truly believes Jesus Christ is the only way to God, and a true evangelical would make that statement."
Evangelicals, Lawrence Christian leaders say, believe the Bible is the literal word of God. They draw particular strength for their beliefs from two passages in Scripture.
"I am the way, the truth and the life, and no one will come unto the father except through me," the Bible reads (John 14:6).
And then this passage: "Except a man be born again, he cannot see the kingdom of God." (John 3:3)
For Bible-believing evangelicals, the implications are clear: Jesus is the son of God, he is the only savior, and the only way to merit eternal life with God is through him.
Compassion for society
Understandably, that doesn't always sit well with those who follow other faiths, or even other Christians.
But it's the method some evangelicals use that could be to blame for offending those with whom they try to share their faith.
"There are a lot of folks that would view (evangelizing) as 'You're trying to push your beliefs on me,' 'Your belief is better than everybody else's,' and that kind of thing," says Mark Chrislip, who attends Heartland Community Church, 619 Vt.
"It really depends on how you approach people. If you approach them like you're trying to peddle religion, I think that's a turnoff. But if you establish relationships with people and have the opportunity to share your values, then I think it's just a natural part of your conversation, you're sharing about yourself."
Chrislip, an evangelical, has served on the Eudora school board for 14 years.
The wider culture isn't always kind to evangelicals, which, according to Chrislip, is the result of stereotypes and misperceptions.
"There are some misunderstandings that if you are evangelical, that maybe you are part of the far-right wing. It just gets thrown into a bucket that they're bigots and they hate people, and I think that's an unfair way to view evangelicals," he says.
Hurlbutt, too, feels that many people simply have the wrong idea of where evangelicals are coming from.
"In some ways, evangelicals are misunderstood because they're looked upon as people who have a belief that sometimes appears exclusive," he says.
"And so that is looked upon more than the compassion they really have for society -- for society to benefit under the reign of Jesus Christ."
A good way to learn more about the evangelical movement is to visit the Web site of the National Association of Evangelicals, www.nae.net.
Here are some of Lawrence's evangelical congregations:
Calvary Temple Assembly of God, 606 W. 29th St. Terrace, 842-6463.
Clinton Parkway Assembly of God, 3200 Clinton Parkway, 843-7189.
Mustard Seed Christian Fellowship, 700 Wakarusa Drive, 841-5685.
Heartland Community Church, 619 Vt., 832-1845.
Christ Community Church, 1100 Kasold Drive, 842-7600.
Morning Star Christian Church, 998 N. 1771 Road, 749-0023.
Victory Bible Church, 1942 Mass., 841-3437.
Grace Evangelical Presbyterian Church, 3312 Calvin Drive, 843-2005.
Lawrence Wesleyan Church, 3705 Clinton Parkway, 841-5446.
First Christian Church, 1000 Ky., 843-0679.
For more information about Lawrence churches, see the Religious Directory in today's Journal-World.
Copyright 2018 The Lawrence Journal-World. All rights reserved. This material may not be published, broadcast, rewritten or redistributed. We strive to uphold our values for every story published.