Kansas University football great Bobby Douglass and a Texas historic preservationist have begun negotiations to buy the Eldridge Hotel.
Court documents filed as part of the hotel's bankruptcy proceeding indicate Douglass and Mitchell Chaney have entered exclusive negotiations with Eldridge House Investors LP to purchase the historic 48-room hotel at 701 Mass.
Chaney, a Brownsville, Texas, lawyer and 1981 graduate of KU's law school, confirmed Wednesday he and Douglass were in negotiations to buy the landmark property. The pair would continue to use the property as a hotel and restaurant.
"You could say that we're cautiously optimistic about completing a deal," Chaney said. "We're both of the mindset that this has the potential to be a cool place with a nice restaurant. It has the potential to be a real focal point for Lawrence."
Longtime association
Chaney said he had been interested in the Eldridge for years. He met his wife, Susan, while tending bar in the building in the late 1970s, when she was a waitress in the restaurant.
"We've been coming back to Lawrence and staying at the hotel for 20 years," Chaney said. "We've said to ourselves that it would be cool if this place could be brought up to what its potential is. I think it probably just needs some more money and some more updating to be successful."
Chaney also has experience in historic preservation. He was part of a group of investors who purchased the 1912 Cameron County Jail Building in Brownsville and renovated it into an office building on the National Register of Historic Places.
Douglass was an All-American quarterback at KU from 1966 to 1968 and went on to play 13 years in the National Football League. After his playing career, he became active in the management of several restaurants in the Chicago area.
He said Wednesday that the opportunity intrigued him from both a business standpoint and as an opportunity to spend more time in Lawrence.
"My obvious interest is that I have a connection with the community and know a lot of people in Lawrence," Douglass said. "It also is a nice piece of real estate. Downtown Lawrence is very vibrant, and it is on a great corner in downtown."
Consultant hired
Rob Phillips, general manager and primary owner of the hotel, would say only that he was pleased with the progress the hotel had made since it filed for bankruptcy protection in December.
"I still feel very, very, very good about the future of the hotel," Phillips said.
He would not be a part of the new ownership group, according to documents filed with the court.
Chaney said he and Douglass hired a consultant who specializes in turning around underperforming hotels and was optimistic that the building, which is on the National Register of Historic Places, once again could house a profitable business.
"The property isn't run down, but there has been some maintenance that has been deferred," Chaney said. "I think the property just has to be updated and energized. We're getting some professional advice on how to do that."
He and Douglass should decide in the next 45 days whether to proceed with the deal, Chaney said. The pair is reviewing the hotel's financial books. The sale would have to be approved by the bankruptcy court.
Financial terms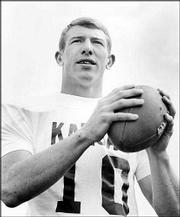 A price for the property has not been agreed upon, Chaney said. Court documents said the group would provide at least $500,000 to the Eldridge to make necessary repairs, to continue operations and pay for some expenses related to the bankruptcy proceeding.
Documents also indicated Phillips would receive an annual salary of $72,000 and a one-time payment of $25,000 to provide management assistance during a transition in ownership.
The court documents referred to paying creditors of the business but did not give details.
When the hotel's owners filed for bankruptcy protection in December, they owed $108,982 in unpaid guest, sales and Kansas withholding taxes. The hotel also owed about $160,000 to the Internal Revenue Service. Baldwin-based Mid-America Bank had begun foreclosure proceedings on the hotel after its owners missed a $1.3 million loan payment.
The foreclosure proceedings have been put on pause by the bankruptcy court, although bank officials have filed a motion to restart those proceedings. The court has not ruled on that motion.
Copyright 2018 The Lawrence Journal-World. All rights reserved. This material may not be published, broadcast, rewritten or redistributed. We strive to uphold our values for every story published.