A two-vehicle accident south of Lawrence killed a man and woman in their 70s from Burlingame on Saturday night after their minivan reportedly ran a stop sign while crossing U.S. Highway 59.
At 9:44 p.m., an eyewitness told the emergency crews that the 1996 Chrysler minivan was headed westbound on Wells Overlook Road and failed to stop at the stop sign that controls traffic crossing U.S. 59, said Sgt. Blake McCall, who was on scene with the Douglas County Sheriff's Office. A 1995 Honda that was northbound on U.S. 59 struck the minivan as it crossed. The minivan rolled, ejecting both passengers. One of them died instantly.
A LifeStar helicopter was dispatched, because one passenger was still alive when emergency crews arrived. That passenger died before the helicopter arrived, McCall said.
The driver of the Honda, a 19-year-old male, suffered only minor injuries and refused treatment, he said.
McCall said neither of the vehicles had Douglas County plates. No further details about the passengers' identities had been released, pending notification of relatives.
Six area agencies responded, McCall said, including Lawrence police, Lawrence-Douglas County Fire & Medical, Baldwin City Police and the Wakarusa Township Fire Department.
"Over the years, there's been a lot of bad accidents at this intersection," McCall said. "I've seen a lot of them."
The Kansas Department of Transportation installed solar-powered flashing road signs to warn drivers of the intersection in 2002.
KDOT statistics said that one person had died and 18 people were injured in 23 accidents at the intersection between 1997 and 2001. The accident rate along the two-lane stretch of U.S. 59 between Lawrence and Ottawa logged 25 percent more accidents than similar highways, according to the department's statistics from the same time period.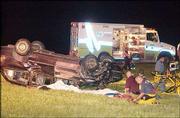 A four-lane highway is slated to be completed on the stretch in 2009, which is expected to reduce the number of fatality accidents by 80 percent and the number of injury accidents by 60 percent.
Copyright 2018 The Lawrence Journal-World. All rights reserved. This material may not be published, broadcast, rewritten or redistributed. We strive to uphold our values for every story published.