A washing machine whirs and clangs a few feet away from Paul Penny's easel. Undaunted by the noise, he points out the techniques he used to perfect the lighting in a portrait of his grandson.
Surrounding him in his basement studio are more than 400 of his completed works. Familiar Lawrence landmarks, the landscapes surrounding town and his grandchildren populate most of his paintings.
Currently, Penny has 23 of his paintings on display at Lawrence Hy-Vee stores as part of the Lawrence Art Walk. He showed more paintings May 2 at Art in the Park in South Park.
Penny's work has been exhibited across Kansas: from the Muchnic Gallery in Atchison to the Agriculture Hall of Fame in Bonner Springs.
Penny, a Lawrence resident, has been painting since he was a teen. Now, at "three years older than sin" (or 78), he is still going strong.
The only thing slowing him down was painful arthritis in his hips, so Penny had both his right and left hips replaced earlier this year. Now he is starting to get back up to speed.
"I feel like I've been born again," Penny said. "I only regret not having (the hip replacements) done sooner."
Penny was born and raised in Lawrence. After graduating from Lawrence High School, he served in the Navy during World War II. He came back to Lawrence and married Virginia before graduating with a Bachelor of Fine Arts from Kansas University.
Penny worked as a production illustrator for Boeing in Wichita. Eventually he moved back to Lawrence and went to work in his family's concrete business.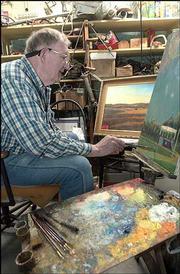 Now retired, Penny splits his time between his various hobbies, which include mushroom and turkey hunting.
"He's happiest when he's doing them," Virginia said.
He also likes to swim.
"He still dives," his wife, Virginia, said. "even after two hip replacements."
It's not uncommon to see Penny at a local park with his easel and palette in hand. He enjoys working outdoors in natural light. Penny said it was a challenge to capture light, because it varied so much.
The simple pleasure he derives from his subjects and his work are evident in every brushstroke.
"I just paint how I feel," Penny said.
Penny has experimented with modern painting techniques but abandoned the new styles in favor of his more traditional brushwork.
His work takes up most of his time, but Penny has been known to give private lessons.
"I'm probably overbooking myself. Maybe I plan more than I am capable of," Penny said. "I just follow the yellow brick road and see where it takes me."
For Penny, age isn't a factor.
"As long as I keep enjoying life, why should I worry about it?" he said. "I'm just going to keep on doing whatever I was doing to start with."
Copyright 2018 The Lawrence Journal-World. All rights reserved. This material may not be published, broadcast, rewritten or redistributed. We strive to uphold our values for every story published.