Cincinnati — Ken Griffey Jr. and Barry Larkin aren't ready for the past tense.
Griffey homered twice, and Larkin hit a tiebreaking two-run shot Saturday, powering the Cincinnati Reds to a 5-3 victory over the San Francisco Giants.
Two friends who have been obscured by injuries for the past few years reminded 39,418 fans and two Giants pitchers of what they can do when healthy.
"We're showing people that we can still play," Griffey said.
Griffey hit two solo homers, giving him three in three days, six for the season and 487 for his career. Larkin broke a fifth-inning tie with a two-run shot, his first homer since Aug. 1.
"I'm not the same player I was three, four, five, six, seven, eight, nine, 10, 15, 20 years ago," said Larkin, who turned 40 last month. "I do things within my ability, which is different than it was 20 years ago. Health is a huge part of it.
"I'm OK with it. I'm not a 30-30 (homers-steals) guy anymore. I'm a realist. I'm not that type of player anymore."
Griffey hit solo shots off Dustin Hermanson in the second, and left-hander Scott Eyre in the eighth, his first multihomer game since May 30 last year.
"It was one of those days where everything I hit was in the air," Griffey said.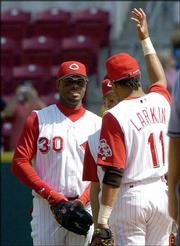 That was the right place to hit it. The ball carried well on a breezy, 80-degree afternoon. The teams combined for six homers -- matching the ballpark record -- one triple, four doubles and three flyouts to the warning track.
Paul Wilson (4-0) extended the best start of his career by giving up only two runs in seven innings -- solo homers by Jeffrey Hammonds and J.T. Snow.
Danny Graves gave up a solo homer to Dustan Mohr while pitching the ninth for his 13th save in 16 chances. Graves has 144 career saves, four shy of John Franco's franchise record.
Barry Bonds flied out three times and drew his 49th walk, the most in the majors. Since missing three games because of a sinus infection, Bonds is 0-for-8 with five walks in three games.
Manager Felipe Alou thinks all of the walks are preventing Bonds from getting back into a rhythm.
"I saw that today," Alou said. "Plus the fact that he's a little weaker coming from that infection he had."
Hermanson (1-2), who hadn't pitched since April 21 because of a strained lower back, allowed four runs and six hits in five innings. The right-hander said he felt fine, but wasn't back to normal in his return.
"You want to hop right back in, and you think you can get right back in the groove," said Hermanson, who threw 71 pitches. "I'm sure in my next outing I'll feel more comfortable than in this one."
Hermanson, who grew up in southwest Ohio, fell to 3-10 career against his boyhood team. His hitting figured into the loss -- he stranded two runners in each of his two at-bats, ending innings with a strikeout and a flyout.
Braves 5, Astros 4, 10 innings
Atlanta -- Andruw Jones hit a 10th-inning homer to give Atlanta a victory over Houston. The Braves rallied in both the eighth and ninth, then won it when Jones, mired in a 1-for-21 slump, hit a two-out, opposite-field homer off Ricky Stone (1-1) that barely cleared the right-field wall.
Padres 6, Marlins 3, 10 innings
Miami -- Sean Burroughs hit a go-ahead single in the 10th inning to lead San Diego over Florida. With the score tied at 3, Miguel Ojeda opened the 10th with a broken-bat single to left, and Franklyn Gracesqui (0-1) hit Khalil Greene was hit by a pitch. Kerry Robinson's bunt single loaded the bases, and Burroughs singled for a 4-3 lead.
Expos 2, Cardinals 0
Montreal -- Tomo Ohka and Rocky Biddle combined on a three-hitter, and Jose Vidro homered and drove in two runs in leading Montreal over St. Louis for its season-high third straight win. Ohka (1-5), who lost his first five starts of the season, allowed Albert Pujols' double in the fourth and a pair of singles to Hector Luna in the fifth and eighth for his first complete game of the season.
Rockies 4, Cubs 3
Chicago -- Jason Jennings hit a game-tying homer off Greg Maddux, and Colorado's starting pitcher ended a personal three-game losing streak. Jennings' two-out, two-run homer -- the second of his career -- tied it at 3 in the fifth, and the Rockies took the lead an inning later when Royce Clayton beat out a bunt, stole second and scored on a two-out single by Jeromy Burnitz.
Phillies 8, D'backs 7
Phoenix -- Tomas Perez hit a three-run homer, and Philadelphia beat Arizona for the fourth time in five tries. Reliever Ryan Madson set a Philadelphia record for consecutive innings without allowing an earned run at 211/3. Madson broke the record of 20 -- set by Marty Bystrom in 1980 -- with a scoreless sixth and seventh, but the streak ended in the eighth when he gave up singles to Danny Bautista and Robby Hammock.
Dodgers 4, Pirates 3
Pittsburgh -- Alex Cora hit a tiebreaking double in the ninth inning, and Los Angeles sent Pittsburgh to its season-high fifth straight loss. Adrian Beltre led off the ninth with a single off Salomon Torres (1-1) that extended his hitting streak to 12 games. After a one-out walk to Jose Hernandez, Cora doubled down the right-field line.
Brewers 6, Mets 4
New York -- Lyle Overbay homered and drove in four runs, and four Milwaukee pitchers combined to pitch a two-hitter.
Copyright 2018 The Associated Press. All rights reserved. This material may not be published, broadcast, rewritten or redistributed. We strive to uphold our values for every story published.