Efforts to amend the state constitution to ban same-sex marriages fizzled last week, but the debate isn't over. It's an election year, and the battle is just beginning.
"You don't call the game after the first quarter," said the Rev. Terry Fox, pastor at the 6,000-member Immanuel Baptist Church in Wichita.
Fox and other religious leaders said they would spend the six months leading to the November elections encouraging their followers to replace the 58 legislators -- 45 in the House, 13 in the Senate -- who voted against a resolution that would have put the amendment on a statewide ballot for voter approval in November.
"As I am talking to you, I'm looking at my telephone and I see that all 12 lines are lit up," Fox said. "Everybody's calling. They want change. They want to turn Kansas around before it's too late."
Fox said he and a coalition of 200 like-minded ministers were planning to work the next two weeks planning "family value rallies" aimed at registering more than 100,000 new voters.
"We know we'll have at least one in Wichita and one in Johnson County," he said. "Lawrence is on the list, but it's not been scheduled yet."
At the rallies, he said, it would be made clear which legislators voted against the gay marriage measure.
"We're not going to endorse candidates," Fox said. "As a church, we're not allowed to do that, and we respect that. But we can certainly let people know how their elected representatives voted and who their opponents are."
The entire Lawrence delegation voted against the amendment: Reps. Tom Sloan, a Republican, and Reps. Barbara Ballard and Paul Davis, both Democrats, were against in the House. Mark Buhler, a Republican, opposed it in the Senate.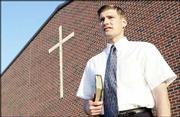 But some lawmakers whose districts extend into Douglas County favored the amendment, including Reps. Lee Tafanelli, an Ozawkie Republican; Rob Boyer, an Olathe Republican; and Tom Holland, a Democrat from Baldwin.
Fox said the coalition was hoping to have 1,000 churches on board before the Aug. 3 primary election.
Area pastors would help
Some Lawrence churches, including Plymouth Congregational Church, have taken special steps to make it known they welcome gays. It's unlikely they will participate.
But pastors at the city's more conservative churches said they would join the drive to unseat lawmakers who voted against the amendment.
In Lawrence, Pastor Scott Hanks said Heritage Baptist Church, 1781 E. 800 Road, would join if asked.
"We've not been contacted," he said. "But we definitely think homosexuality is a sin. In fact, it's hard for us to see how a church can call itself a church and not be against homosexuality when the Bible is so clear that it's a sin."
Pastor Paul Gray said Heartland Community Church, 619 Vt., would probably join -- with caution.
"I think the issue is critical to maintaining Judeo-Christian family values," he said. "But how we go about stating our views is also critical. I don't in any way want to become another Fred Phelps, but on the other hand I don't want to give up biblical values for the sake of being politically correct."
The House voted for a marriage amendment 88-36 in March but just 79-45 in May.Yes in March, No in MayRay Cox, R-Bonner Springs; Marti Crow, D-Leavenworth; Ruby Gilbert, D-Wichita; Lana Gordon, R-Topeka; Bill Kassebaum, R-Burdick; Harold Lane, D-Topeka; Judy Loganbill, D-Wichita; Josh Svaty, D-Ellsworth; Roger Toelkes, D-Topeka; Kevin Yoder, R-Overland Park.No in March, Yes in MayValdenia Winn, D-Kansas City.
'Hot-button issue'
The Catholic Church, too, is expected to join the fray.
Earlier this month, the 500-delegate Kansas State Council of the Knights of Columbus passed a resolution supporting the amendment.
"You can say, 'Oh, this is just one of those hot-button issues that gets people worked up. It'll blow over.' But as someone who spent 11 years in the Legislature, I can tell you this is different," said Mike Farmer, executive director at the Kansas Catholic Conference, a former legislator and a veteran of the state's most contentious debates on abortion.
"I've never seen anything like this in terms of constituents contacting their legislators," Farmer said. "I had a legislator tell me he got 200 phone calls in an hour. I believe him."
Scripture vs. state?
The callers, Fox said, found homosexuality:
"A sin, a perversion."
"A reasoned, chosen behavior that you're not born with."
Culturally destructive.
Two leading voices on each side of the state's gay marriage issue bring their viewpoints to this week's edition of "On The Record," airing at 12:30 p.m. today on KTWU Topeka, Sunflower Broadband Channel 11.Scheduled to appear are Sen. David Adkins, R-Leawood, and the Rev. Terry Fox, of Immanuel Baptist Church in Wichita.Adkins was largely responsible for the state Senate's initial rejection of a proposed constitutional ban on gay marriage. Fox helped organize a statewide grassroots lobbying effort in the aftermath of that vote, forcing it back on the legislative agenda.
The movement, he insisted, was not built on hate.
"We realize there will always be homosexuals and that as Americans they have the right to do as they choose to do. We do not dispute that," Fox said. "But when talk turns to granting these relationships a marital status that we believe the Scripture says is to be between one man and one woman -- that's crossing over the line. As Christians, we cannot let that happen."
Fox said he was aware Christians do not all think alike and that disagreements were part of the American fabric. But within this context, he said, it was intolerable not to let the two sides vote on the issue.
"The greatest offense to the church is not gay marriage," Fox said. "It's the arrogance of legislators telling us we cannot vote on this issue. What they've said to the people of Kansas is 'We're smarter than you. Go away.' We are not going away."
Fox dismissed arguments that state law already prohibited same-sex marriage, making the proposed amendment unnecessary.
"Let the people vote on it," he said.
Base issue
Whether the movement can generate enough heat to unseat legislators who voted against putting the amendment on the ballot remains to be seen.
Burdett Loomis, a political science professor at Kansas University, said he was skeptical.
"I doubt there'll be much of a firestorm," he said. "I feel this is a base issue rather than a crossover issue. By that I mean this is conservatives rallying their base. I don't see it causing moderate Republicans or Democrats to change their votes.
"Plus, I think too many people have a gay relative," Loomis said.
Rep. Tom Sloan, R-Lawrence, doubts much will change.
"Is gay marriage a big issue? Yes, it is," he said. "But so are concealed carry, school finance and a dozen other things -- they're all big issues to somebody."
Sloan, a moderate Republican who twice voted against the same-sex marriage amendment, said he expected to have a conservative opponent in the GOP primary as well as a Democrat to run against in the Nov. 2 general election.
"We live in a representative democracy," he said. "Opposition is to be expected."
Change of heart
Rep. Kevin Yoder, R-Overland Park, voted for the amendment in March. He voted against it last week.
"The more I thought about it, the more I came to see this as an unnecessary exercise to put the state through," said Yoder, who was KU student body president in 1998-99. He graduated from KU School of Law in 2002.
Yoder said he received 500 e-mails and more than 100 telephone calls in response to voting against the amendment.
"But the overwhelming bulk of them were from the Wichita area -- outside my district," he said. "And I'd surveyed my district via e-mail and found that more are opposed to the amendment than in support of it. I couldn't see codifying something in the constitution that didn't have majority support."
Controversy in Baldwin
Rep. Tom Holland, D-Baldwin, twice voted for the amendment.
"This is an extremely divisive issue in my district. There's a very strong sentiment for it to be on the ballot," Holland said, noting that he, too, was swamped with e-mails, letters and phone calls.
"I've heard legislators say, 'Yeah, but it's all coming out of Wichita. That's outside my district.' For them, they may be true," he said. "But for me, a lot of it came from inside my district."
A 'Round Two'
Some say the amendment is an issue created by conservatives eager to rekindle the grass-roots zeal once inspired by the abortion issue.
"We're involved somewhat on the issue of abortion," Fox said of his church. "But not as active as on this issue. We've always been known as a conservative church. I think the church feels like it lost on abortion, and this (the amendment) is one more loss. So this is Round Two. The church is tired of being ignored by elected officials."
Fox predicted the gay marriage issue would fire up members of his church even more than abortion.
"Frankly, if the amendment had passed, I think this thing would be over," he said. "But since it failed, it's energized conservatives like nothing else ever has."
Copyright 2018 The Lawrence Journal-World. All rights reserved. This material may not be published, broadcast, rewritten or redistributed. We strive to uphold our values for every story published.