As soon as the words had tumbled from my mouth, I knew I had crossed another parenting trip wire.
"You know," I said as my 2-year-old continued on her merry, yet defiant, way, "I make the rules around here."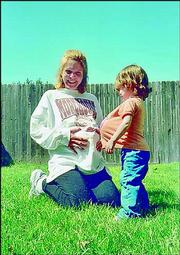 And while that statement was made more to reassure me than inform her, I knew that it was just the first of many such parenting cliches.
At least my husband laughed later when I told him about it.
"She'll learn that eventually," he said with a wry smile.
Therein lies the lesson of my daughter's second year: It's all mental.
Mental for her, in the tremendous jumps her vocabulary, memory and knowledge have made.
Mental for me, in the number of times I have to shake my head in amazement at something she's done or said -- or take a deep breath, count to 10 and say to myself, "She's 2 years old. She's 2 years old. She's ... 2 ... years ... old."
Yep, we're living through the "terrible twos," although as most folks know they arrive much sooner than that. A more accurate label probably would be the "terrible toddlers" because this thing kicks in around the time little ones realize they're independent beings.
But there are levels of terrible, and I'd have to say we've lucked out so far in staying at low-level terrible. It's more frustrating than anything else, because we're basically trying to teach her to think logically.
And sometimes even us grown-ups struggle to do that.
Why can't you bang crayons on the walls?
Because we only color on paper (preferably in our coloring books).
Why can't you eat chocolate before 11 a.m.?
Because it's too early (although Mommy has a hard time following this rule).
Why shouldn't you run around in the yard, eluding capture, every time we're getting ready to leave?
Because we have to be somewhere, sometime soon (or, more likely, we were supposed to be there 10 minutes ago).
Before my daughter was born, I used to see parents at the store and wonder how they could shop, seemingly oblivious to their youngsters' chatter, screaming or sobbing -- or all three.
Now I know. Selective hearing is one of those things you pick up somewhere along the way, kind of like the realization that now, we're the grown-ups -- and all of the sudden we're authority figures to other children.
Soon after my daughter was born I remember telling someone I couldn't wait to hear her voice, I was so curious to see what it sounded like.
"And then you'll wish you'd never hear it again," she said.
Now that isn't (yet) true for me, but I could see how that might apply. We're pretty tolerant of our daughter's chatter and sing-song sounds, but when we're out in public I occasionally notice the sideways glances coming our way.
To them I say, sorry for interrupting your day.
Because sometimes, rules -- time to use our indoor voices -- are made to be broken. Just don't tell my daughter. She'll figure it out soon enough.
Copyright 2018 The Lawrence Journal-World. All rights reserved. This material may not be published, broadcast, rewritten or redistributed. We strive to uphold our values for every story published.